NAVIGATE THE ART OF ANNIVERSARY PARTIES
Let's Start Planning!
Contact our event experts and start planning your anniversary party today!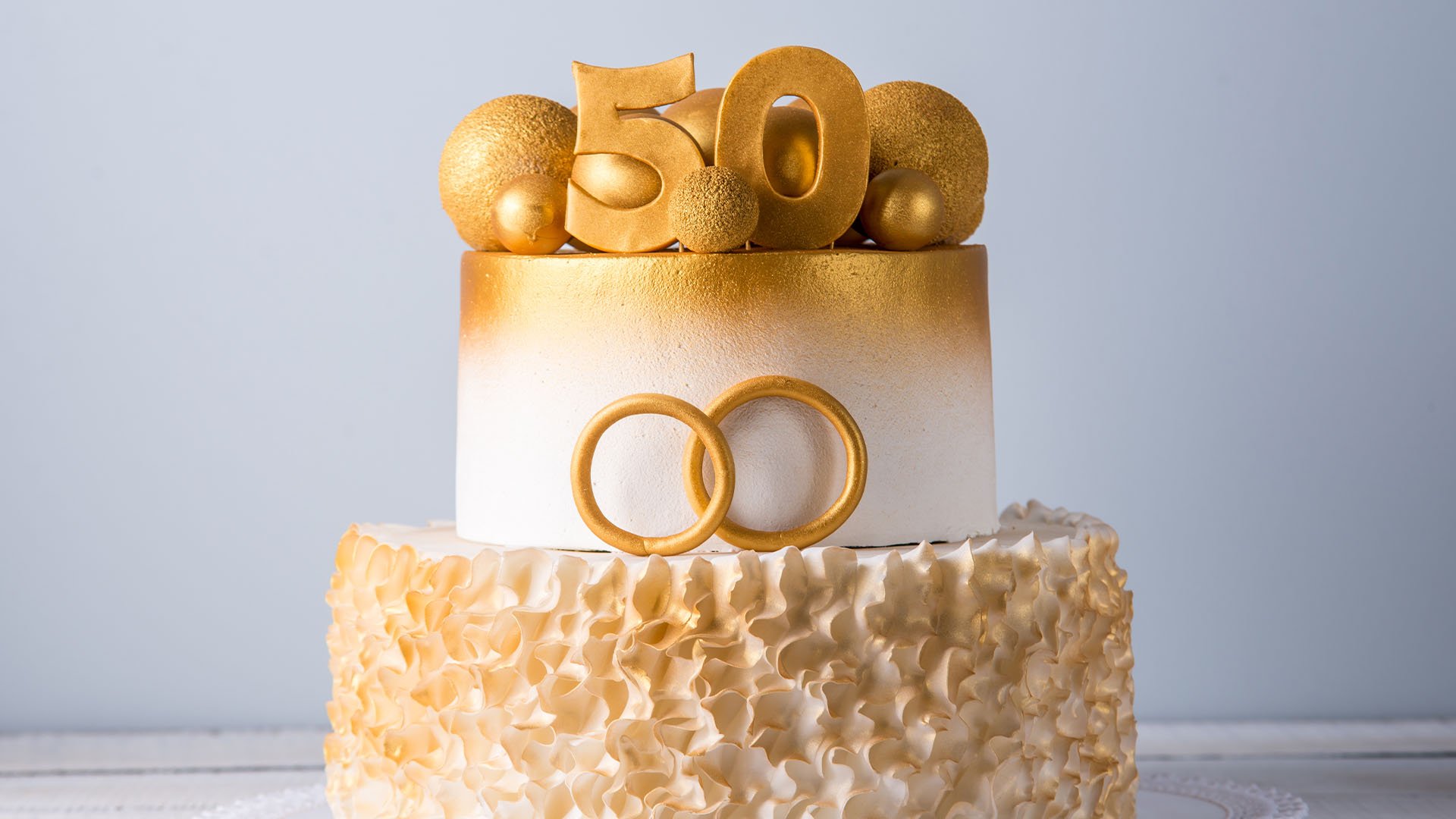 A CELEBRATION AS UNIQUE AS


Your Love Story
Your love story deserves to be celebrated in a way that's as unique and beautiful as the journey you've shared. Our venues provide the ideal backdrop for creating unforgettable memories, and we're excited to share how our spaces can be transformed into a reflection of your love.
Anniversary parties tend to have an average attendance of 50 to 100 guests, including close family and friends.
Approximately 70% of anniversary parties are hosted as private events in rented venues, and more elaborate celebrations are gaining popularity.
The longest-married couple on record had been married for over 86 years. They held the Guinness World Record for the longest marriage.
Notably, the 25th (Silver), 50th (Golden), and 60th (Diamond) anniversaries are among the most celebrated milestones, often marked with grander festivities.
CONTACT AN EVENT EXPERT
Get the latest event advice and help choosing a venue to suit your needs.
Take Your Anniversary to New Heights!
Let's set the stage for an anniversary party that leaves a lasting impression. Our venues offer a combination of elegance, ambiance, and sophistication that's second to none. Join us as we unveil the possibilities and take your celebration to new heights of joy and beauty.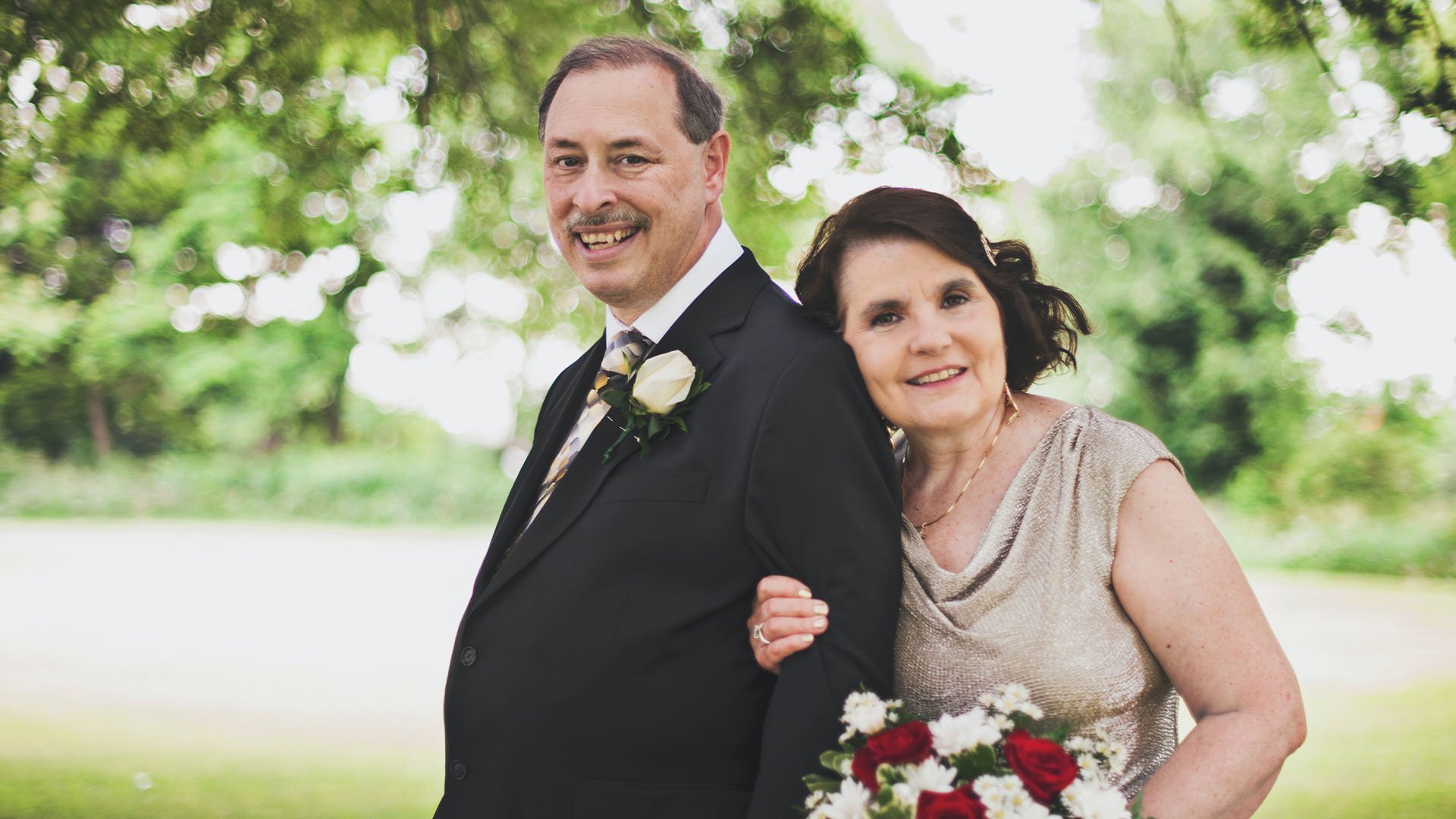 The Profound Significance of Anniversary Celebrations:
Strengthening the Bonds of Love
Anniversary celebrations, those heartfelt occasions that mark the passage of time in a relationship, hold significance beyond mere tradition. They are beautiful milestones, reminding us of the years shared and encapsulating the profound depth of love and commitment. An anniversary party can strengthen the bonds between partners when done thoughtfully, which is why it is a powerful endeavor.


A Reflection of Commitment
An anniversary celebration isn't just a party; it's a testament to the commitment and dedication that both partners have invested in the relationship. It's a moment to pause and reflect on the journey, from the initial spark of love to the beautiful complexities of sharing a life together. By commemorating each year of togetherness, you acknowledge the strength of your commitment, which has weathered challenges, celebrated triumphs, and grown with each passing day.


Symbolism of Milestone Anniversaries
Milestone anniversaries, such as the 10th, 25th, or 50th, carry a special significance. They represent not only the longevity of a relationship but also the endurance of love over time. These year marks are powerful symbols of a journey filled with shared experiences, lessons learned, and a love that has grown deeper with every moment. Such celebrations are an opportunity to reaffirm your commitment and showcase the enduring strength of your love to friends and family.


Renewing the Spark
In the hustle and bustle of everyday life, it's easy to lose sight of the spark that brought you together. Anniversary celebrations serve as an opportunity to reignite that spark, to remember the laughter, the shared hopes, and the love that binds you. It's a chance to create new memories, strengthen the bond that brought you together in the first place, and remind yourselves of the joy that comes from being partners in this incredible journey.


Celebration of Love's Journey
Life is a series of chapters, each with its own joys and challenges. An anniversary celebration allows you to celebrate the chapters you've written together. It's a time to acknowledge the growth you've experienced as a couple, the hurdles you've overcome, and the beautiful moments that have shaped your story. By celebrating this journey, you honor your past and pave the way for a brighter future together.


As a result, anniversary celebrations are more than just parties; they are heartfelt expressions of love, commitment, and the beauty of sharing a life with someone special. Through these celebrations, we honor the time that has passed and lay the foundation for a future filled with love, companionship, and the continued growth of our unique love story. As you plan your anniversary party, remember its profound significance, a beautiful testament to the enduring power of love.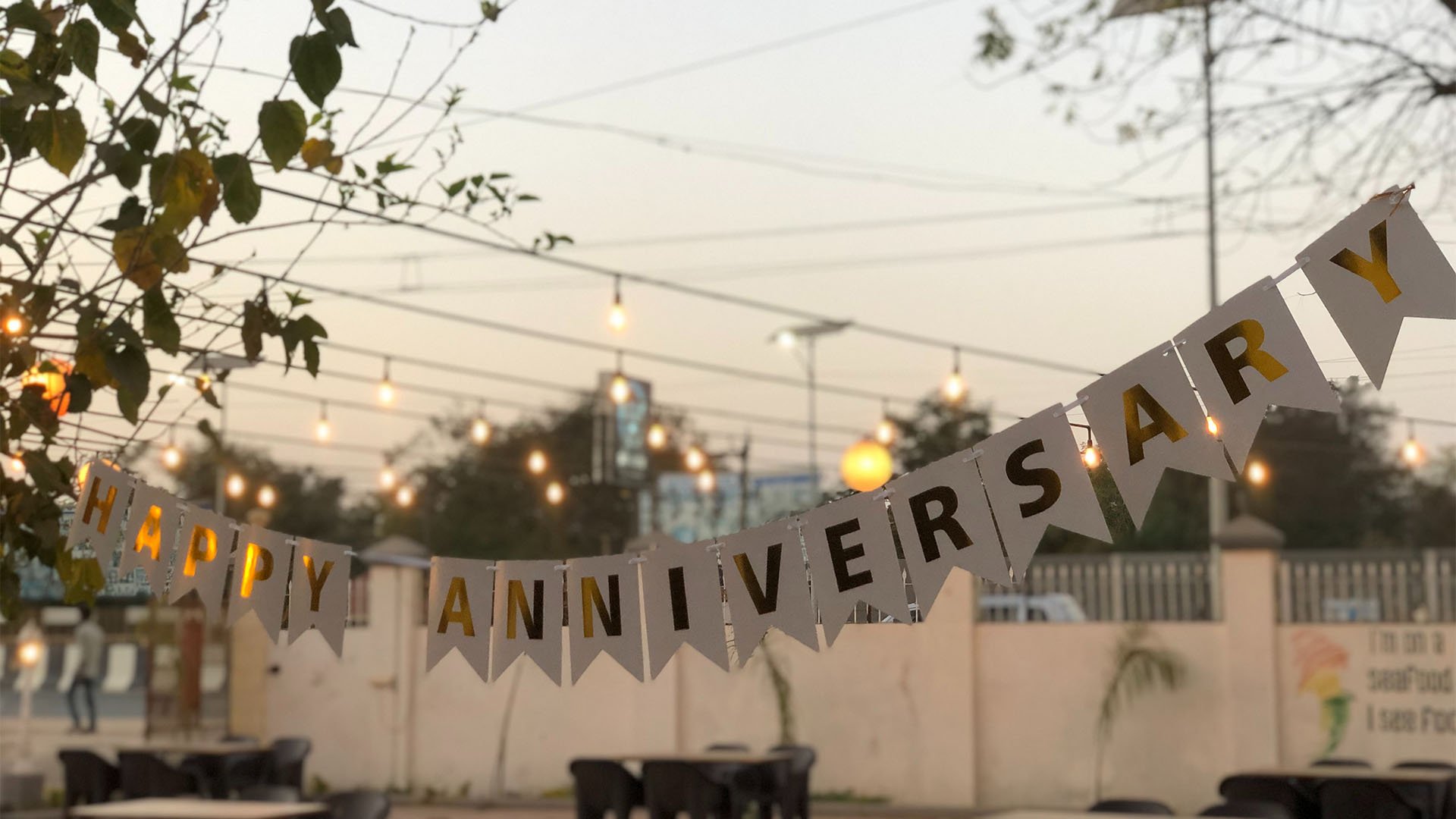 Creating the Right Setting:
Elevating Your Anniversary Party with Venue and Themes
When planning an unforgettable anniversary party, the venue and theme are the canvas upon which you paint your love story. These elements set the stage for a breathtaking experience, creating an atmosphere that will linger in the hearts of your guests for years to come. Let's dive into selecting the ideal venue and infusing it with a theme that captivates and celebrates the essence of your love.


Selecting the Ideal Venue
Choosing a unique and one-of-a-kind venue is akin to finding the ideal frame for a cherished painting. The venue becomes a central character in your celebration, providing the backdrop against which your love story unfolds. Whether you opt for an intimate garden setting, an elegant hall, or a picturesque beach, the venue should reflect the tone and style of your relationship. It should be a place where you feel comfortable and where your love can shine brightly.
Consider the size of your guest list, the ambiance you desire, and the practicality of the location. Does the venue align with your theme and provide the amenities you need? Remember, the ideal venue complements and enhances your celebration, making your anniversary party unforgettable.
At Wedgewood Weddings & Events, we specialize in transforming our exquisite venues into the ideal canvas for your amazing event. With a portfolio of stunning locations, each venue exudes its own distinct charm, providing a backdrop that effortlessly complements your vision. Our seasoned team leverages each space's unique features, creating an inviting and captivating ambiance. From the grandeur of our historic estates to the modern elegance of our contemporary venues, every location is imbued with a sense of timelessness and sophistication. With Wedgewood Weddings & Events, you're not just selecting a venue but choosing an experience curated with care and expertise. We understand that the right setting is pivotal, and we take pride in offering a selection of venues that ensure your event will be nothing short of extraordinary. Elevate your celebration with us, where each venue is a testament to our commitment to turning moments into memories.


The Charm of Themes
A well-chosen theme can elevate your anniversary party from a simple gathering to an exceptional experience. Themes add personality and cohesiveness to your celebration, weaving a thread of meaning throughout the event. The possibilities are limitless, from classic romantic themes to personalized concepts that reflect your unique journey.
Consider incorporating elements from your love story or shared interests into the theme. This personal touch can create a sense of intimacy, making the celebration even more special for you and your guests. Imagine a vintage-themed party adorned with old photos and mementos or a whimsical garden party that captures the joy of your relationship. The theme should reflect your love, a visual representation of your beautiful connection.
Vintage Romance

Transport your guests to a bygone era with a Vintage Romance theme. Think lace, pearls, and muted pastels. Decorate with antique props and delicate floral arrangements. Play music from the era and consider incorporating a classic black-and-white photo booth. This theme exudes timeless elegance and celebrates the enduring love that has stood the test of time.

Tropical Paradise

Bring the warmth and vibrancy of a tropical paradise to your anniversary celebration. Use a palette of lush greens, vibrant blues, and sunset-inspired hues. Decorate with exotic flowers, tiki torches, and bamboo accents. Serve tropical cocktails and consider incorporating island-inspired cuisine. This theme embodies relaxation, fun, and the spirit of adventure.

Golden Glamour

Celebrate a milestone anniversary with a touch of opulence and sophistication. Use a color scheme of gold, ivory, and deep burgundy. Incorporate luxurious fabrics like velvet and satin. Adorn the venue with elegant crystal chandeliers and golden accents. Consider a formal dress code and serve gourmet cuisine. This theme radiates timeless glamour and commemorates the enduring commitment between two individuals.

These themes can be tailored to suit various preferences and are designed to create a memorable and meaningful anniversary celebration.


The Impact of Décor on Ambiance
Once you've chosen the venue and theme, it's time to transform the space into a mesmerizing haven of love. Décor plays a pivotal role in creating the desired ambiance. From elegant floral arrangements to romantic lighting, the décor sets the mood, evoking emotions and creating an atmosphere that resonates with your guests.
Pay attention to the finer details that align with your theme, table settings, centerpieces, and space layout. Use décor to tell your love story, from the first meeting to cherished moments you've shared. Consider incorporating sentimental value elements, creating an environment that looks beautiful and feels deeply meaningful.


The venue and theme of your anniversary party are more than logistical choices; they're an opportunity to create an experience that captures the essence of your love. Choose the right venue, infuse it with a theme that reflects your journey, and use décor to enhance the ambiance. When done with care and creativity, your venue and theme will transport your guests to a world where love reigns supreme, leaving them with memories that will last a lifetime.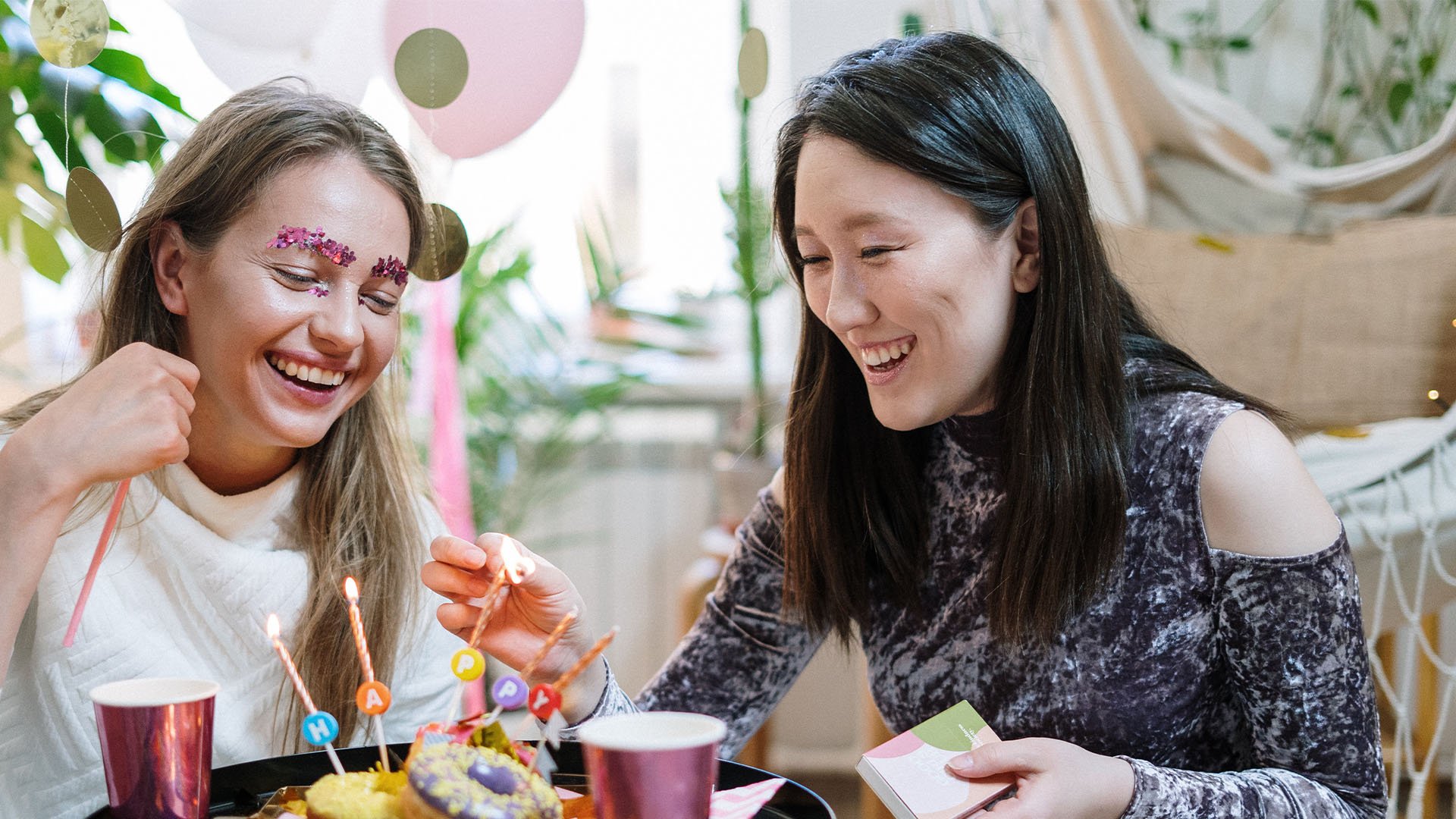 Cheers to the Happy Couple:
As the evening unfolds and laughter fills the air, your anniversary party truly comes alive with the clinking of glasses and the rhythm of joy. Crafting a beverage experience that aligns with your celebration will keep guests talking for years.


Craft a Signature Cocktail
Elevate your anniversary party with a signature cocktail that not only delights the senses but also encapsulates the spirit of your relationship. We'll help you infuse personal touches into the cocktail creation process, from choosing the base spirits to selecting unique garnishes. Whether it's a playful nod to your first date or a concoction that celebrates your shared passions, your signature cocktail becomes an emblem of your love story, ready to be savored by your guests.


Here are five examples of delightful signature cocktails, each with its own unique twist and charm:
Love Blossom Martini

A romantic and visually stunning cocktail featuring gin, elderflower liqueur, a splash of fresh lemon juice, and a touch of lavender syrup. Garnished with a delicate edible flower, this cocktail embodies the blooming love of your relationship.

Golden Sunset Sangria

A refreshing and vibrant sangria with a tropical twist. Combining white wine, pineapple juice, a hint of coconut rum, fresh slices of oranges and strawberries, and a splash of sparkling soda, this cocktail brings the warmth of a golden sunset to your celebration.

Passion Fusion Margarita

This vibrant margarita combines the tangy sweetness of passion fruit puree with the smooth kick of silver tequila, a hint of orange liqueur, and a dash of lime. Served with a chili-salted rim, it's an ideal blend of passion and zest.

Enchanted Garden Mojito

A delightful and refreshing mojito that's as beautiful as it is delicious. Muddled mint and lime meet the refreshing notes of cucumber and a touch of elderflower liqueur, creating a delightful cocktail that transports your guests to a garden.

Timeless Love Old Fashioned

A classic cocktail with a modern twist, this Old Fashioned features a high-quality bourbon or whiskey, rich maple syrup, aromatic bitters, and a hint of orange zest. Served with a brandied cherry, it's a timeless, sophisticated choice that pays homage to your enduring love.
These signature cocktails can be customized to align beautifully with your theme, colors, and the overall tone of your anniversary party, creating a memorable and delicious experience for your guests.
Create the Atmosphere
When creating a memorable anniversary party, entertainment is the secret ingredient that brings the celebration to life. Whether planning an intimate gathering or a grand soirée, the right entertainment choices set the tone, spark joy, and ensure your guests have a fantastic time. Let's explore the different types of entertainment that can transform your anniversary party into an unforgettable experience.


Live Music: A Symphony of Emotion
Live music has the power to touch hearts, evoke emotions, and create an atmosphere of pure magic. Consider hiring a talented live band or a skilled solo musician to serenade your guests with melodies that resonate with your love story. From soulful ballads to upbeat tunes that get everyone on the dance floor, live music adds a personal touch, infusing your celebration with an air of elegance and charm.


Dance the Night Away: Professional DJs
A professional DJ can elevate your anniversary party to new heights. With their ability to read the crowd and play the ideal mix of music, a DJ ensures that the dance floor stays lively throughout the evening. They can curate a playlist that spans generations, appealing to both young and old, creating a vibrant atmosphere where guests can let loose and celebrate their love with every twirl and groove.


Interactive Entertainment: Creating Lasting Memories
Consider incorporating interactive entertainment to engage and delight your guests. Photo booths with fun props, instant prints, and a digital copy for your guests to cherish are a wonderful addition. You can also host a trivia game that tests how well your guests know you as a couple, sparking laughter and friendly competition. These interactive elements create lasting memories and allow guests to connect, fostering an atmosphere of camaraderie and joy.


Heartfelt Speeches and Toasts
While not traditional entertainment, heartfelt speeches and toasts can be a powerful form of emotional entertainment. Invite close friends and family to share their heartfelt wishes, funny anecdotes, and words of love. These speeches create touching moments, allowing your loved ones to express genuine happiness for you and your partner, creating a heartwarming connection between all attendees.


Cultural Performances: Celebrating Diversity
Suppose you and your partner hail from diverse cultural backgrounds; incorporating cultural performances can be a beautiful way to celebrate your love story. Traditional dances, songs, or even a presentation on your cultural heritage can add a meaningful and unique touch to your anniversary party, allowing you to share your individual and combined journeys.


Entertainment is the soul of your anniversary party, and the choices you make have the power to make your celebration truly unforgettable. Whether you opt for live music, a dynamic DJ, interactive elements, heartfelt speeches, or cultural performances, the right entertainment will create an atmosphere that resonates with your love story and leaves your guests with beautiful memories that will be cherished for years.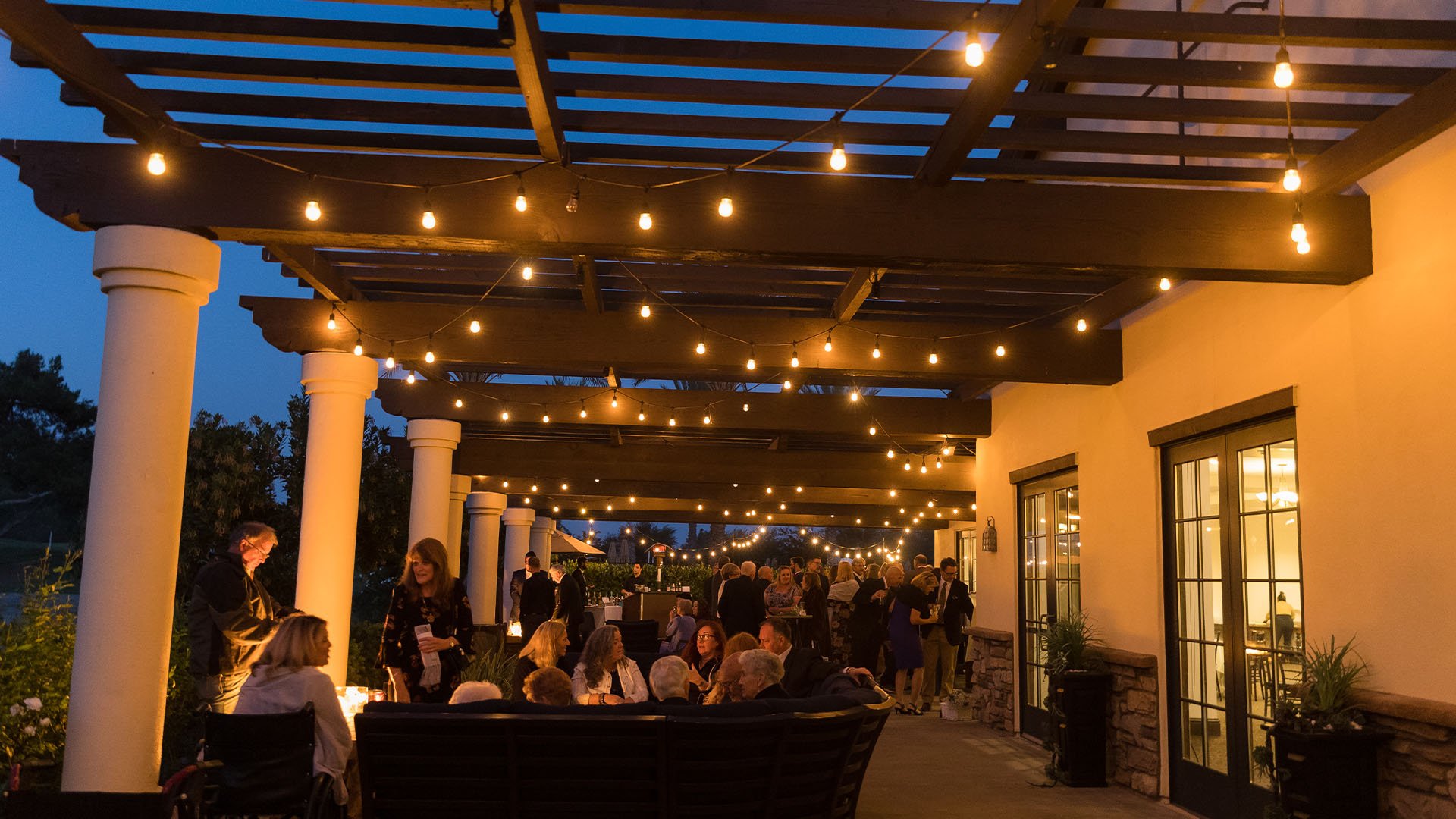 In your anniversary party's music selection, the harmonious blend of melody and dance is the key to creating an atmosphere that resonates with your guests. Setting the right musical ambiance sets the stage for an unforgettable anniversary celebration, ensuring every moment is filled with joy and cherished memories.


Selecting the Best Playlist
The music you choose for your anniversary party sets the tone and stirs the emotions of your guests. From the moment they arrive to the final dance, every song should resonate with the beauty of your relationship. Consider a diverse mix that caters to different tastes and age groups, including those timeless classics that evoke nostalgia and the current hits that get everyone on their feet.
Live bands, solo musicians, or a professional DJ are all excellent options. A live band adds a touch of elegance and creates a captivating atmosphere, while a skilled DJ can seamlessly transition between songs, ensuring a continuous flow of energy. Discuss your preferences with the musical talent you choose and provide them with a list of songs that hold special significance in your love story, the song from your first dance, the tune that brings back memories of your early days together, and the songs that make your hearts sing. Together, you'll craft a playlist that weaves a musical narrative that resonates deeply with you and your guests.


Choreographing a Special Dance
The spotlight moment of your anniversary party is often the first dance as a married couple, and it's a chance to showcase the beauty of your relationship. Consider taking a dance class together to prepare for this special moment. Whether it's a classic waltz, a passionate tango, or a playful swing, a well-rehearsed dance brings a touch of elegance and intimacy to the celebration.
If you're not inclined to a traditional first dance, consider a group dance or a choreographed surprise with your bridal party or close friends. This unexpected twist adds an element of entertainment and keeps the energy high. Remember, the goal is to celebrate your love in a way that feels authentic and meaningful.


Encouraging Guest Participation
A lively dance floor is the heartbeat of any celebration, and encouraging guest participation ensures a joyful and energetic atmosphere. Your musical choices should include songs that invite everyone to join in, from classic party hits to those irresistible tunes that bring guests of all ages to the dance floor. A skilled DJ or bandleader will gauge the crowd's mood, adjusting the playlist to keep the party vibrant and the dance floor bustling.
Consider interactive elements encouraging participation, such as a request line where guests can suggest songs to dance to or surprise dance-off challenges to keep the energy high. Keep in mind the diverse tastes of your guests, mixing up the genres and providing a variety of music that ensures everyone feels included and eager to dance.


Music and dance are the heart and soul of your anniversary party, setting the stage for a celebration filled with joy, love, and unforgettable moments. By selecting the ideal playlist, choreographing a special dance, and encouraging guest participation, you create an atmosphere that resonates deeply with your love story and ensures your celebration is a magical and harmonious experience for all.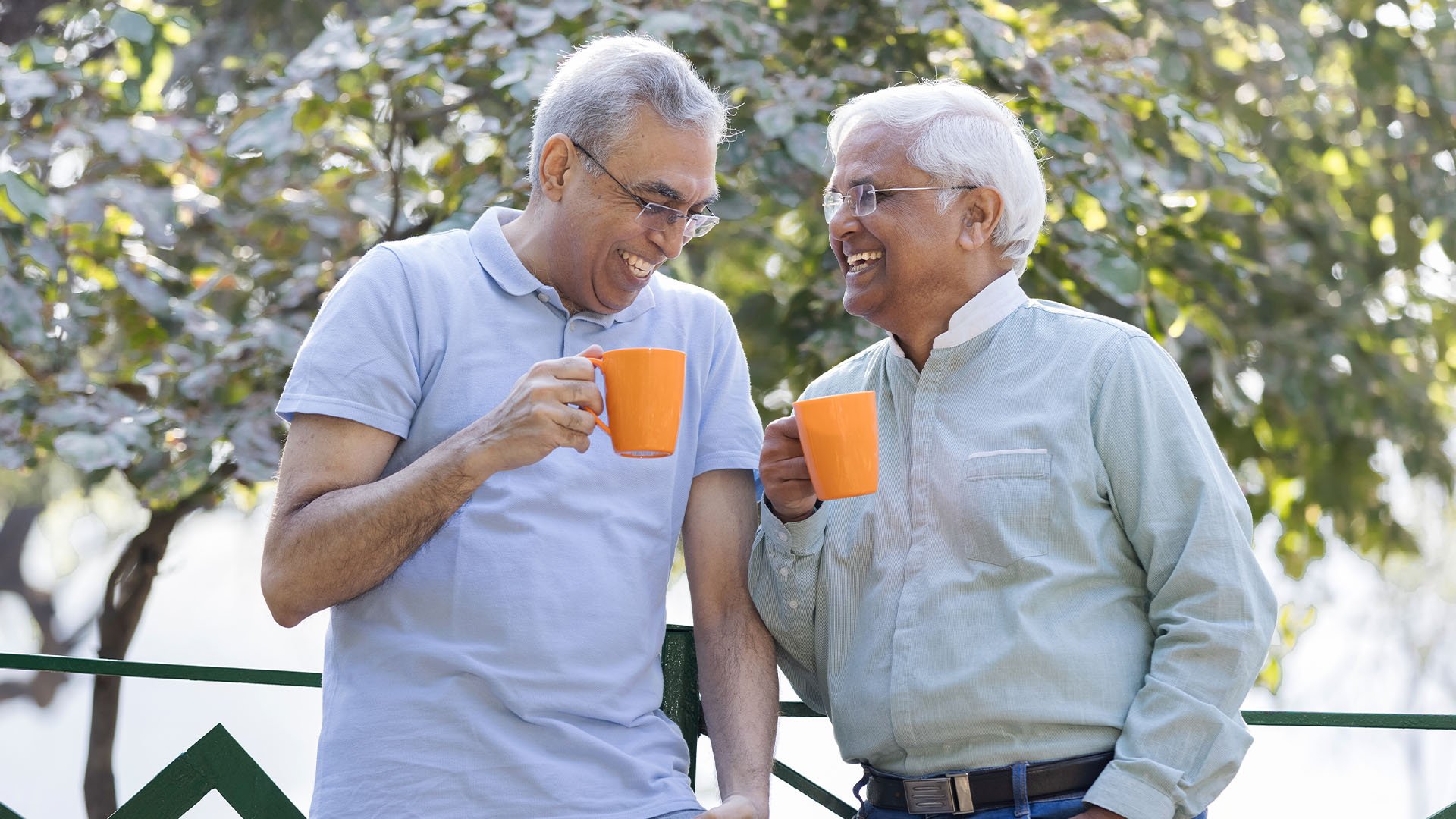 Photography and Videography
Preserving the precious moments of your anniversary party is a true gift to yourself and your loved ones. Let's talk about the profound impact of professional photography and videography, guiding you to immortalize the joy, love, and cherished memories that unfold during this special occasion.


Professional Photography
Imagine the power of a single photograph: a fleeting moment captured in time, filled with emotion, laughter, and genuine connection. Professional photographers are more than just individuals with cameras; they are storytellers who craft a visual narrative of your love story. By documenting every smile, every touch, and every heartfelt exchange, they transform your celebration into a treasure trove of memories that will be revisited and cherished for generations to come.
The benefits of professional photography are immeasurable. It lets you be fully present, knowing that skilled hands capture every detail. These photographs are a tangible reminder of the love you share, preserving not just the aesthetics of the event but also the emotions that make your celebration unique. From candid shots that capture spontaneous laughter to meticulously composed portraits, the artistry of professional photography turns your anniversary party into a timeless work of art.


Skilled Videography
Videography brings a dynamic and emotional depth to your anniversary party memories. It captures the movement, voices, and ambient sounds, creating a cinematic experience that encapsulates the essence of your celebration. From welcoming greetings to heartfelt speeches, every word and gesture is preserved, allowing you to revisit the emotions, laughter, and love in a way that photographs alone cannot convey.

This immersive videographic experience brings together beautiful memories, transporting you back to that special day. It enables you to hear the tremor in your voice as you make your speeches, witness the tears of joy in your loved one's eyes, and relive the euphoria of your anniversary dance. Skillfully crafted by videographers, this experience allows you to share your anniversary party with those who couldn't be present, ensuring that every nuance, emotion, and meaningful detail is forever etched in your heart.
Investing in professional photography and videography is an invaluable decision that enriches your anniversary party in countless ways. It ensures that the moment's love, laughter, and joy are immortalized, creating a legacy you and your loved ones will cherish. By choosing these art forms, you document the beauty of the celebration and create a treasure that captures the essence of your love, allowing you to relive and share this precious day for a lifetime.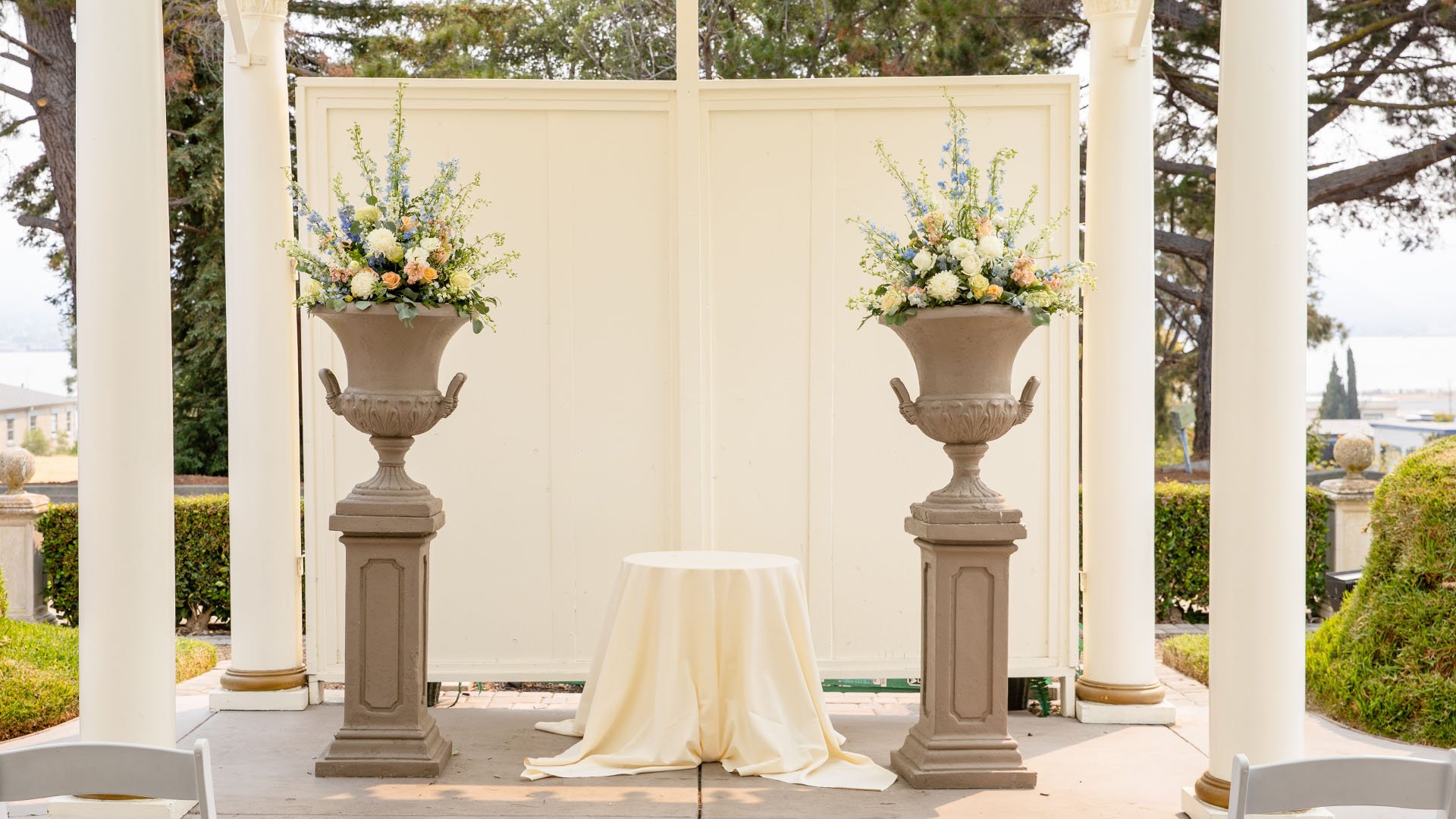 Meaningful Activities and Games
At the heart of every remarkable anniversary party lies the opportunity to create unforgettable memories and foster genuine connections among your guests. Let's delve into the world of meaningful activities and engaging games, offering insights on curating an atmosphere where laughter, camaraderie, and cherished moments intertwine seamlessly.


Heartwarming Activities for Guests
Elevate your anniversary party by providing guests with activities that evoke smiles and forge connections. A memory jar, for instance, invites guests to leave heartfelt notes, advice, or cherished memories that you can revisit for years to come. A collaborative photo album station allows guests to contribute snapshots and personal messages, building a keepsake that reflects the collective love and happiness surrounding your relationship.
Interactive activities, such as group storytelling or a trivia game centered around your journey as a couple, encourage guests to engage, laugh, and share their own perspectives on your love story. These heartwarming activities not only create an atmosphere of camaraderie but also contribute to the sense of unity that defines your celebration.


Games that Bring Joy and Laughter

Laughter is the thread that weaves joy into every gathering, and well-chosen games can amplify this joy while leaving your guests with cherished memories. Consider incorporating classics like "Anniversary Bingo," customized to highlight significant milestones in your relationship. A "Couple's Compatibility Quiz" not only engages your guests but also offers insights into the depth of your connection. Interactive dance-offs, ice-breaking games, or even a lighthearted treasure hunt can infuse your celebration with playfulness and create unforgettable shared experiences.

Creating a Memory Jar

The memory jar is a wonderful way to encourage guests to contribute their sentiments and memories throughout the event. By providing elegant cards or small pieces of paper, along with pens, you create a dedicated space for guests to pen their wishes, anecdotes, and reflections. These heartfelt messages are a tangible reminder of the love and joy surrounding you, a treasure trove of memories that can be revisited on your journey together.

Meaningful activities and games are the heartbeats of your anniversary party, infusing it with personal connections, laughter, and unforgettable moments. By offering engaging experiences and interactive games, you're creating a celebration that resonates with your guests and crafting a beautiful tapestry of memories that celebrate your love story. These activities ensure that your anniversary party is not just an event but a profound experience that leaves a lasting impact on all who attend.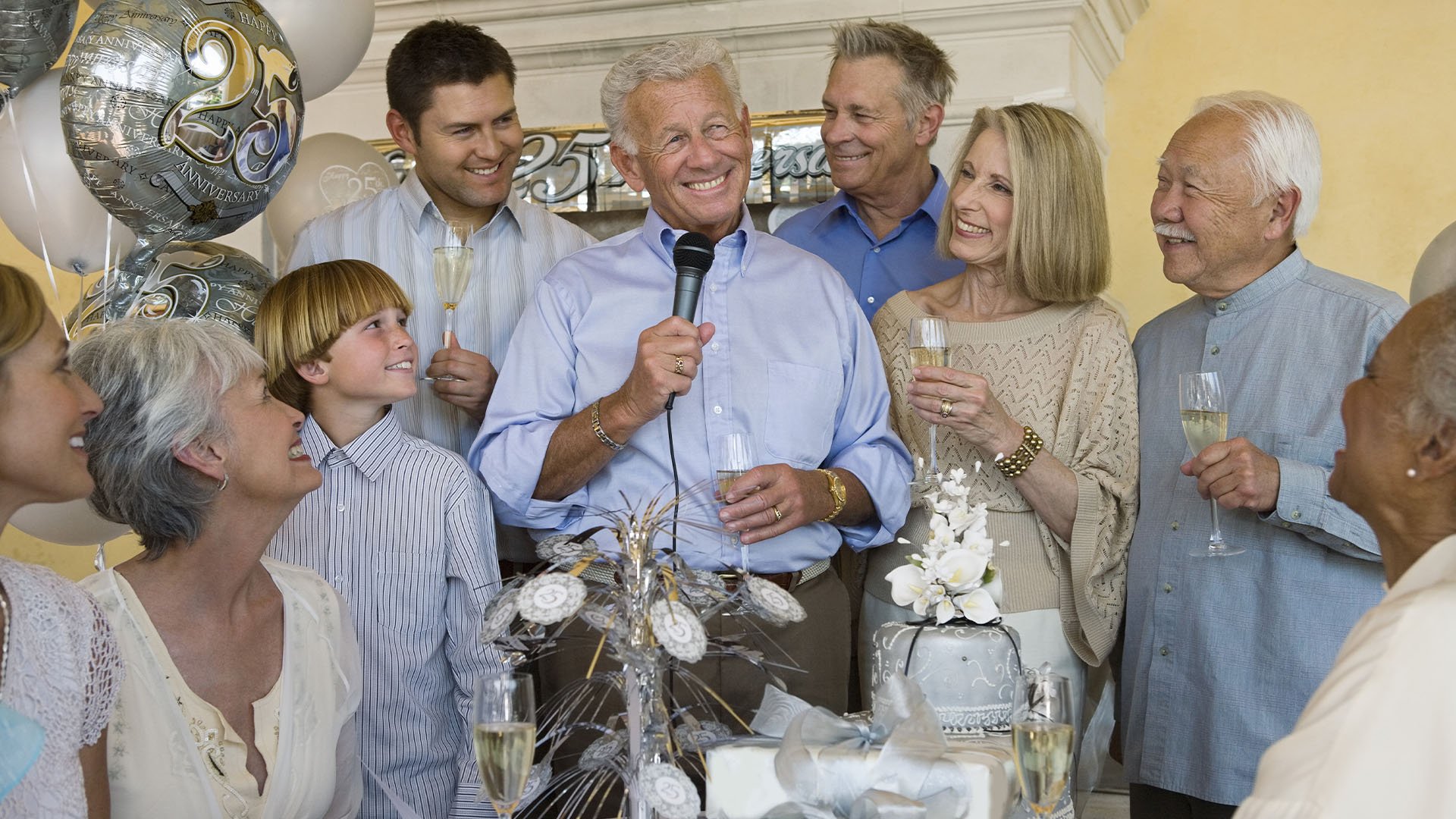 Celebrating a Lifetime of Love:
Amidst the joyous ambiance of your anniversary party, toasts and speeches stand as poignant moments that honor your journey together.


Meaningful Toasts and Speeches
Toasts and speeches are more than mere formalities; they're the heartfelt expressions of those who have shared in your joy and witnessed the beauty of your relationship. Begin by selecting the individuals who will give toasts and speeches, close family, dear friends, and perhaps a few who hold a special place in your heart. Be sure to communicate your expectations and the desired tone you envision, ensuring that the speeches reflect the emotions and experiences that have shaped your love.
Crafting meaningful toasts and speeches requires a delicate balance. Encourage your speakers to share anecdotes that capture the essence of your relationship, funny stories that add levity, and, most importantly, words that convey the depth of love and admiration you share. If you're giving a speech as the couple of honor, take this opportunity to express gratitude, reflect on your journey together, and share the dreams ahead. A well-crafted speech can bring tears, laughter, and a profound connection, leaving your guests with a deeper understanding of the love that binds you.


Dos and Don'ts: Ensuring Memorable Moments
Toasts and speeches, when executed thoughtfully, enhance the celebration. However, there are a few dos and don'ts to consider. Encourage your speakers to keep their remarks concise, focusing on the key moments highlighting your love. Remind them to be mindful of the audience's attention span and the overall flow of the event. On the other hand, a heartfelt but overly lengthy speech can cause guests to lose interest.
Another important aspect is the timing. Coordinate with your speakers and let them know when their moment will come, ensuring they're prepared and confident in their role. Create a schedule that intersperses toasts and speeches throughout the event, weaving them into the fabric of the celebration.


Expert Tips for Toasts and Speeches
A polished and heartfelt toast or speech results from preparation and sincere emotions. Here are a few expert tips to guide both speakers and the couple of honor:
Be Authentic

Encourage your speakers to be genuine and authentic in their words. Share personal stories that showcase the depth of your relationship.

Practice Makes Perfect

Suggest your speakers rehearse their toasts or speeches beforehand. This helps with confidence and ensures they stay within a reasonable time frame.

Express Gratitude

As a couple, thank your guests for sharing on this special day. This is an opportunity to acknowledge the importance of those around you.

Focus on the Positive

Toasts and speeches should focus on the positive aspects of your relationship and the joyous occasion. It's a celebration, and the words shared should reflect that.
Toasts and speeches are beautiful moments that add a layer of significance to your anniversary party. By crafting meaningful toasts and speeches, adhering to dos and don'ts, and following expert tips, you're ensuring that these moments become cherished memories for you, your guests, and everyone who has been touched by your enduring love.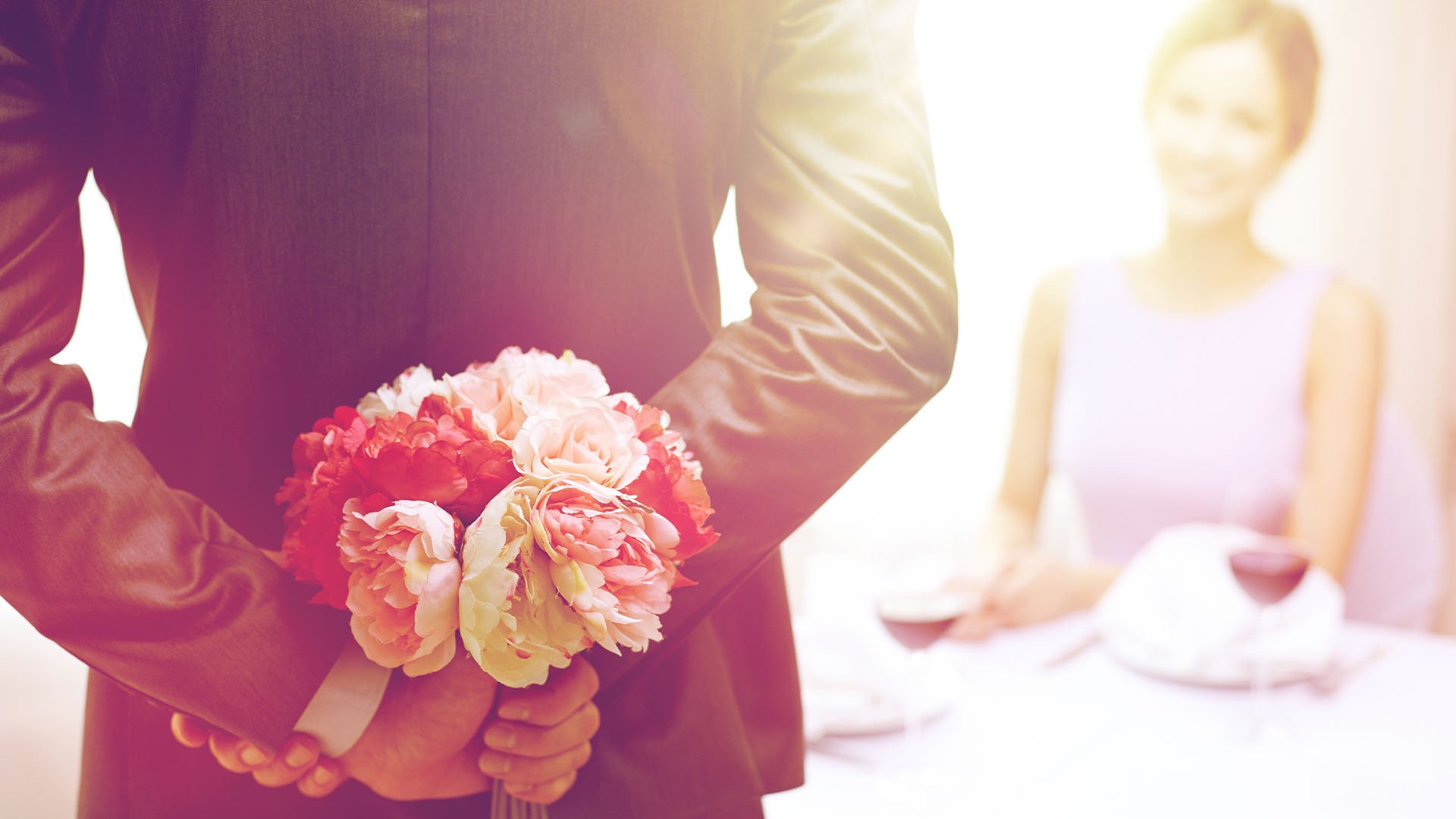 As the curtains close on your unforgettable anniversary party, an important chapter remains: expressing heartfelt gratitude to the individuals who have shared this beautiful moment. This final chapter focuses on the art of saying thank you in meaningful and impactful ways, leaving a lasting impression that reflects the depth of your appreciation and the joy you feel for having your loved ones by your side.
The Power of 'Thank You'
Saying thank you is not just a formality; it's a genuine expression of gratitude that resonates deeply with your guests. It acknowledges the time, effort, and love they've invested in being part of your celebration. A heartfelt thank you can leave an indelible mark, creating a warm feeling of connection that lingers long after the party ends.


Unique Party Favors: A Token of Appreciation
Party favors are a delightful way to say thank you and provide guests with a memento that encapsulates the essence of your anniversary party. Consider personalized keepsakes that reflect your love story, such as custom-made candles, engraved coasters, or miniature photo albums. These thoughtful tokens are beautiful reminders of the special day they shared with you.


Charitable Gestures: Giving Back
Another meaningful way to express gratitude is by giving back to the community. Consider making a donation to a charity that holds significance to both of you or has impacted the lives of your guests. You can share this charitable gesture with your guests, letting them know that their presence at your celebration has contributed to a cause that matters. This act of giving back enriches not only your celebration but also the lives of others.


Personalized Thank You Notes: A Timeless Gesture
The classic elegance of a handwritten thank you note is an enduring way to convey your gratitude. Take the time to craft personalized notes for each guest, sharing your appreciation for their presence, the joy they brought to the celebration, and the part they've played in your love story. This simple yet profound gesture creates a meaningful connection that demonstrates the depth of your gratitude.


Leaving a Positive Impact
You create a positive impact beyond your anniversary party by thoughtfully expressing gratitude through unique party favors, charitable gestures, and heartfelt thank-you notes. Your guests will remember the beauty of the celebration, the warmth of your appreciation, and the fact that their presence was valued and cherished.

Saying thank you is a beautiful way to end your anniversary party. By incorporating unique party favors, charitable gestures, and personalized thank-you notes, you're leaving an impression that speaks volumes about your love and appreciation for those who shared on this special day. As you bid farewell to your guests, let the resounding echoes of gratitude linger, creating memories that remain etched in their hearts.
WELCOME TO A WORLD OF

Anniversary Elegance!
Prepare to embark on a journey where love, celebration, and elegance come together in the most enchanting way possible. We're thrilled to introduce our stunning venues, ideal for creating the anniversary party you've always envisioned.
CONTACT AN EVENT EXPERT
Get the latest event advice and help choosing a venue to suit your anniversary celebration.