Forested canyon views with a rippling creek combine with elegant styling for a gorgeous event amongst nature. From the cozy indoor fireplaces and rustic elements add charm to each meeting space...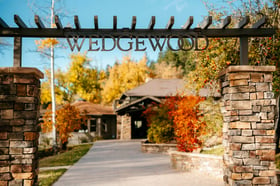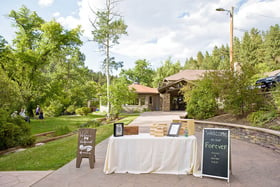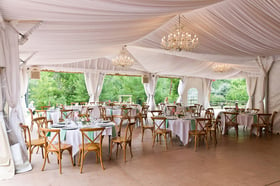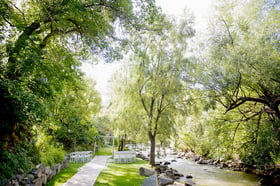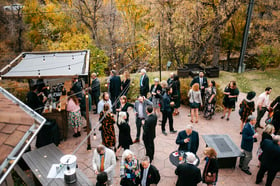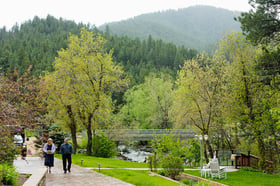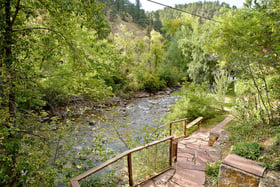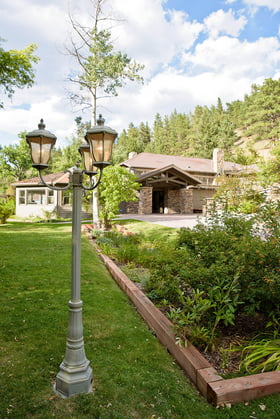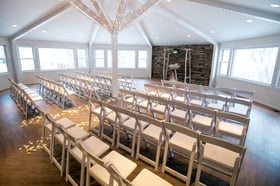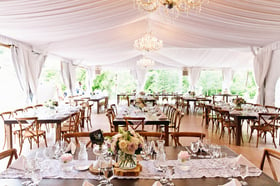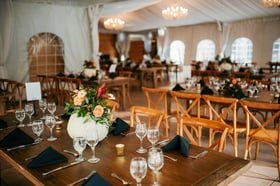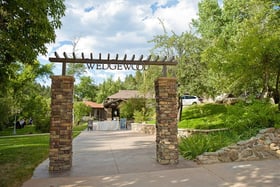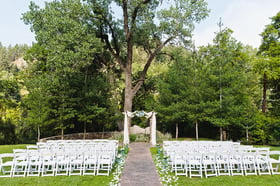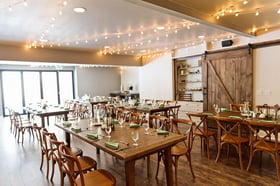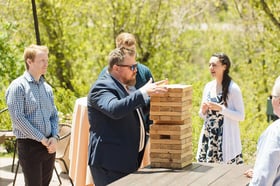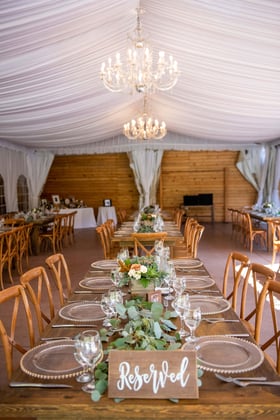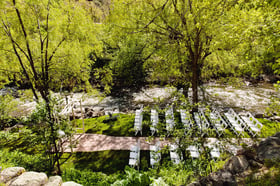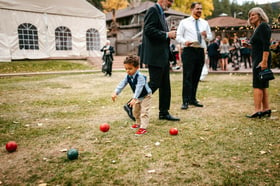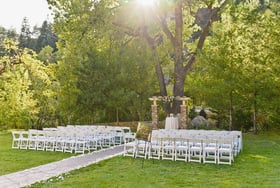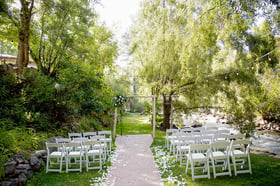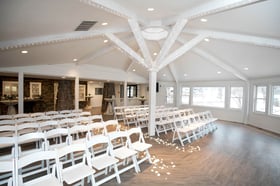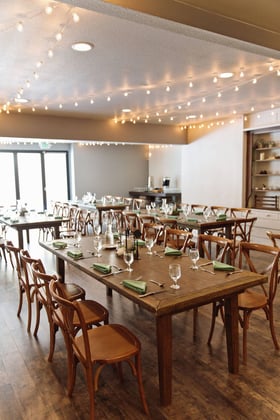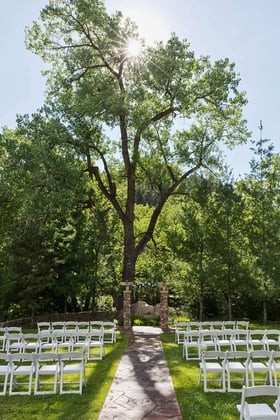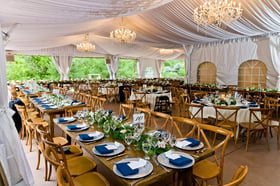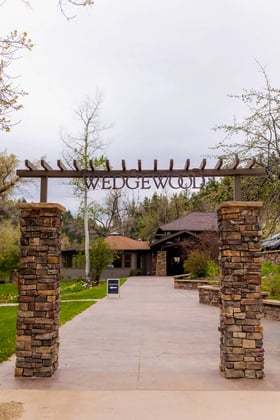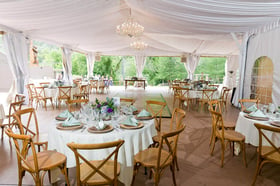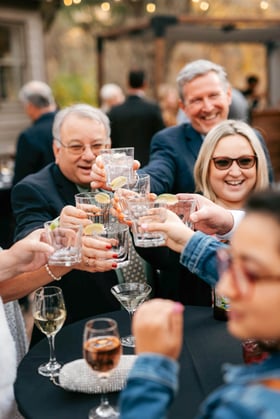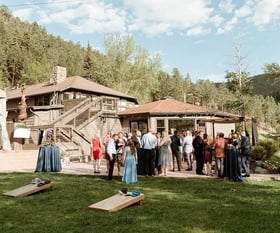 Find a woodland retreat in Boulder Canyon all your own at Boulder Creek by Wedgewood Events. From the towering pines to the gentle sounds of the creek rushing nearby, this venue provides a rustic-yet-elegant atmosphere for every event. Just a ten minute drive from Downtown Boulder, the area's natural beauty with the upscale touches of the indoor event spaces make this a spot unlike any other.
Nestled in the renowned Boulder Canyon, Boulder Creek by Wedgewood Events gives you that mountain feel… yet, it's only ten minutes from Downtown Boulder! This premier event venue preserves its mountain charm while beaming with the glamor of a European-style lodge. Enjoy a networking cocktail hour next to lush, towering trees and the serene sound of the rippling creek. Then head under the crystal chandeliers of the tented pavilion or next to the crackling fireplace in the cozy indoor reception space for dinner. Wedgewood Events perfectly balances lavish taste with touches of rustic elements to give you a unique style of mountainous luxury.
Tented Reception with Crystal Chandeliers
Rustic Elements for a Mountain Feel
Creekside and Lush Forest Photo Opportunities
Just minutes away from Downtown Boulder, Boulder Creek by Wedgewood Events is tucked away in the mountains, yet easily reachable from Denver, Adams, Gilpin, and Jefferson Counties. At this serene location, event organizers will experience an easy, relaxing, and stress-free planning experience while also hosting a stunning event that wows every guest! As with all Wedgewood event venues, our dedicated event planning team makes everything about the wedding-planning experience a breeze. This unique venue attracts event organizers seeking a destination event as well as event organizers from Nederland, Allenspark, Lyons, Denver, Westminster, Arvada, Golden, Longmont, Loveland, Black Hawk, Aurora, Louisville, Lafayette, Brighton, Broomfield, and Lakewood.
CO-119 in Boulder Canyon is currently under construction by the Colorado Department of Transportation (CDOT). We're open as usual and tweaking event times to make sure event organizers and guests can avoid traffic delays. Happily, the improvements will provide necessary repairs and help with year-round access for Boulder and Nederland communities.
If you plan to visit Boulder Creek by Wedgewood Events, please allow extra travel time. Our team is also allotting longer appointment times just in case, as this beautiful event venue deserves an extensive tour of the facility and grounds.
EVENT VENUE LOCATION
Boulder, CO
Venue Type
Beautiful summer pavilion (capacity 250 from May to October and 100 from November to April), gorgeous green room suite, large outdoor ceremony and gathering areas, plus gorgeous Boulder stream setting for photo opportunities.
We couldn't have asked for a better venue than Boulder Creek by Wedgewood Events. Top notch professional service, affordable pricing that delivered outstanding value and excellent day of event service. The place is super intimate and very unique being up the Canyon and right along the Boulder Creek. Definitely worth a visit when you are checking out venues in Colorado. Close enough to downtown Boulder where there is so much to do, but still felt like a getaway once you're up the Canyon.
Austin Z.
San Francisco, California
Starting from day one, the Wedgewood Events staff were always there to answer any questions we had and always got back to us practically immediately. They laid everything out for us so we were never guessing or questioning if we needed to do something else. Even with Covid, Wedgewood and the staff did a phenomenal job to ensure our wedding was perfect! All their vendors that they partnered with were also amazing. Thank you!
Brandon E.
Aurora, Colorado
The venue is so gorgeous but even better is the amazing staff working there! We had the smoothest event ever thanks in large part to our coordinator and banquet captain. I can't praise them enough for all they did for us! I loved that we were able to get a good estimate of the cost without contacting multiple vendors. We used many of their vendors and had a wonderful experience across the board. Because of their organization, we were able to just relax and have fun with pour guests.
Jenny F.
Denver, Colorado
CONTACT AN EVENT EXPERT
Get the latest event advice and help choosing a venue to suit your needs.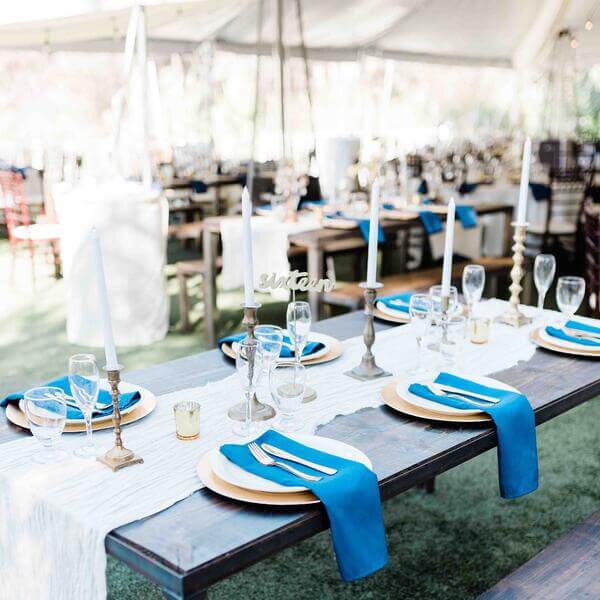 WHY CHOOSE

Wedgewood Events?
Wedgewood Events is a venue specialist with stunning locations from coast to coast. Explore our range of venues to find the best match for your meeting and event needs. From historic to rustic or luxurious and elegant we have the ideal event space for you!
EXPERT EVENT HOSTS FOR
EVERY EVENT TYPE
Our team provides the venue space for your event. We always provide in-house catering and bar services if needed. You are welcome to bring in outside vendors for décor, entertainment, and extra supply rentals.
Casting & Auditions

Formal Corporate Board Meetings

Team Meetings & Training

Conferences, Expos, Conventions Or Forums

Charity Galas & Fundraising
Bar & Batmitzvah, Quinceañera, Sweet16

Celebrations Of Life, Memorials

Department, Group & Teamwork Sessions

Off-Site Development Sessions

Creative / Client Discussions, Sales Training
Motivational Training & Coaching

Neighborhood Socials, Meetings Or Gatherings

Planning Sessions & Collaboration

Wedding Ceremony / Reception & Vow Renewal

Awards Ceremonies Or Launch Events
Filmshoot, Photoshoot, Performances & Recitals

School Proms, Graduations & Reunions

Group Counselling / Therapy Sessions

Holiday, Anniversary, Birthday, Engagement & Retirement Parties & Banquets
We can arrange our event venues for streamlined functions and banquets.
Talk to our team if you want a corporate or formal business event with seminar, horseshoe or classroom training room arrangements. Our team is also expert at creating a fun atmosphere for a family or social party. If you have a reason to celebrate, consider Wedgewood Events to meet your needs. All our venues offer indoor and outside event space for your gathering.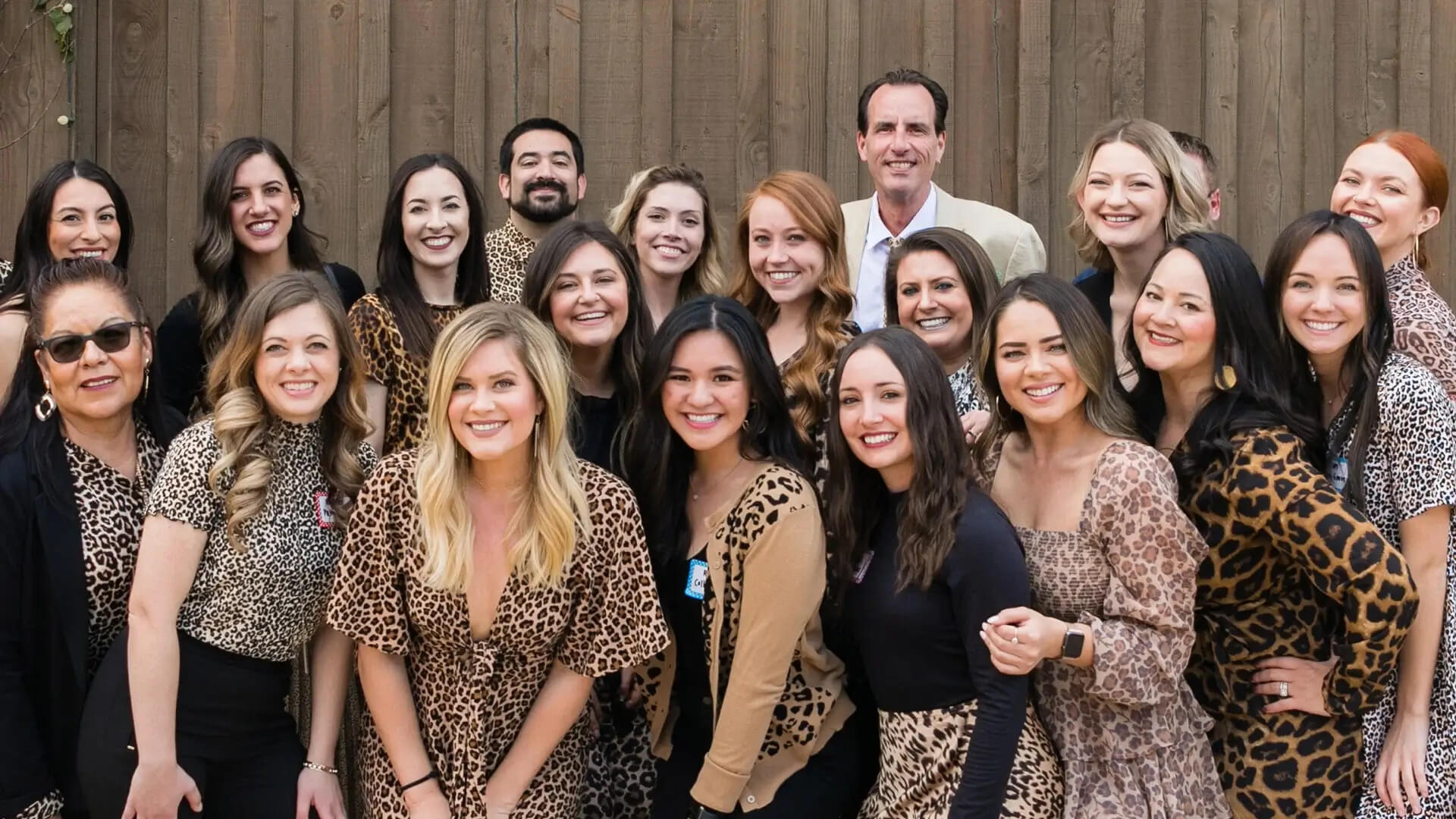 READY TO GET THIS

Party Started?
Learn about our venues, stress-free events planning process
and how we can make your day unforgettable.
CONTACT AN EVENT EXPERT
Get the latest event advice and help choosing a venue to suit your needs.