Breathtaking hilltop winery with panoramic views of the SoCal Wine Country and surrounding vistas. Impress guests with a scenic view during an upscale gala or provide a relaxing escape for a casual social event...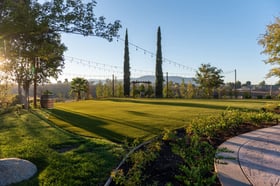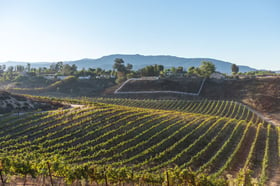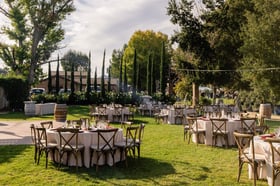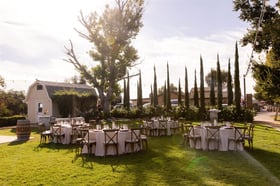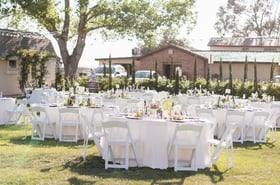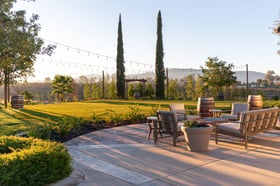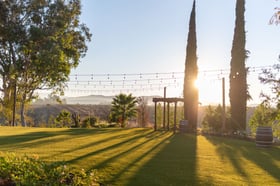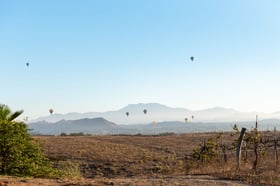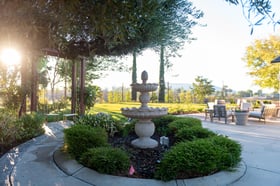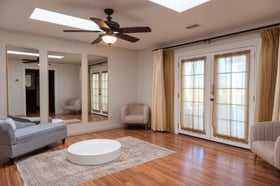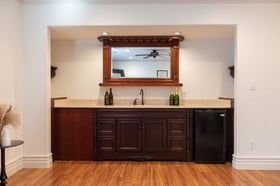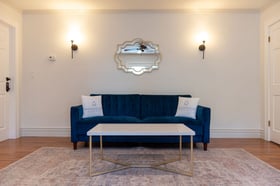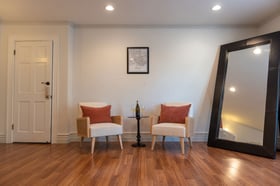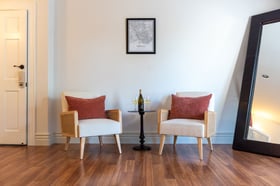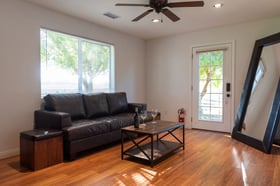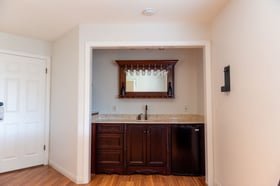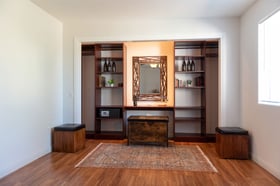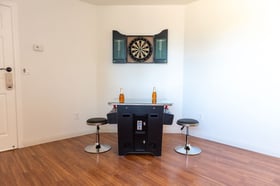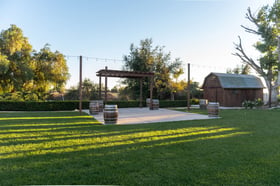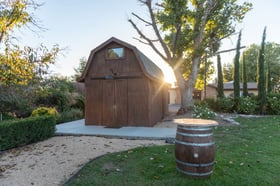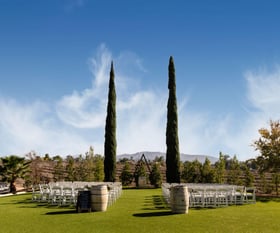 Enjoy breathtaking views of Temecula Wine Country and its surrounding landscapes while hosting your next event at Bel Vino Winery. Immerse your guests in the beautiful surroundings and create a memorable occasion at this hilltop winery. From the private green rooms in the casita to the event lawns, this gorgeous location provides modern amenities in a Mediterranean atmosphere.
Upon arrival, guests will enjoy a private space behind the casita where they can mingle and relax before the start of the event. On the spacious east event lawn, host a variety of lawn games for attendees to enjoy when they aren't snapping a selfie or taking in the amazing surrounding valley views. After your initial celebration has concluded, whether it's a ceremony, networking hour, or speech, guests can head to the west event lawn where our 5-star rated cuisine will be served under gorgeous bistro lighting. As sunset turns to twilight, the picturesque vistas will charm guests throughout the night and provide a stunning backdrop for any style of event.


Panoramic views of Temecula Wine Country and surrounding vistas

Private celebration spaces for intimate gatherings

Exclusive access to Bel Vino Casita for green room access

Choice of two open air event lawns

Located minutes from Downtown Temecula and less than an hour from San Diego

Events hosted at Bel Vino Winery go off without a hitch with our onsite planning team to help every step of the way. Enjoy all-inclusive event coordination services that take the guess work out of putting together a memorable occasion. Our team of event experts will help plan your event from start to finish and will finalize every little detail behind the scenes, giving you time to relax and focus on the finer details of event planning.
Bel Vino Winery provides a stunning space all on it's own or can be decorated to suit your event theme. Dress up the dark wood arbor with gorgeous florals or incorporate fun details into your reception space; the sky is truly the limit at this scenic locale.
Start planning your alfresco event at Bel Vino Winery with our event experts. Schedule your tour today and explore all that this amazing location has to offer for your next great gathering.
EVENT VENUE LOCATION
Temecula, CA
Venue Type
Open-air winery with panoramic views of surrounding vineyards and vistas
It was truly an amazing event because of the team at Bel Vino Winery. Planning an event can be extremely stressful and whenever I emailed over a question it got answered within 30 minutes. The customer service that this team exemplifies is truly amazing and extremely refreshing. The food was absolutely delicious, the drinks were awesome, the layout was perfect, and the night couldn't have gone better- they are a well oiled machine! Our planner worked with us the day of the event, and she was comforting, warm hearted, and really took care of us!
Rachel D.
San Marcos, California
Such an amazing venue!!! You have an entire team working with you and they had great options for packages to choose from. It was such an easy process that we barely had any stress! Our day-of coordinator was an absolute rock star. She went above and beyond and our celebration went off without a hitch. Everything looked so gorgeous. Highly recommend this venue and team!!
Tahnee C.
Aliso Viejo, California
The entire team at Wedgewood Weddings was amazing. From the initial consultation, every single meeting, every phone call, every question, every detail to the actual event day, it was perfect. Thank you so much for making our event as special as it could have possibly been.
Suzanne M.
Mission Viejo, California
CONTACT AN EVENT EXPERT
Get the latest event advice and help choosing a venue to suit your needs.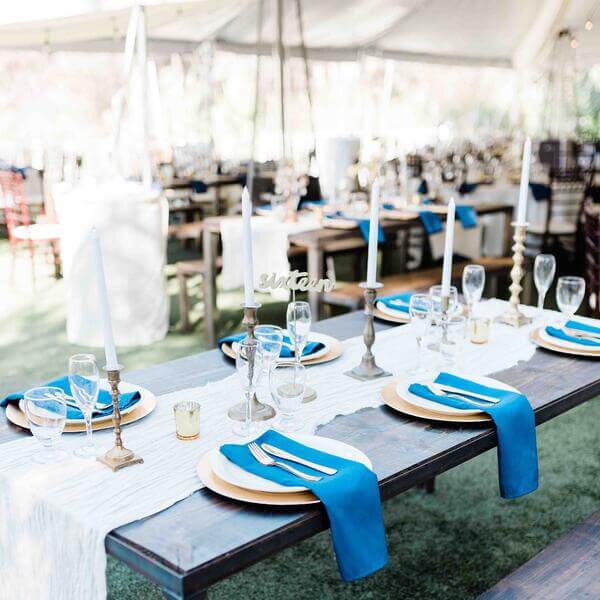 WHY CHOOSE

Wedgewood Events?
Wedgewood Events is a venue specialist with stunning locations from coast to coast. Explore our range of venues to find the best match for your meeting and event needs. From historic to rustic or luxurious and elegant we have the ideal event space for you!
EXPERT EVENT HOSTS FOR
EVERY EVENT TYPE
Our team provides the venue space for your event. We always provide in-house catering and bar services if needed. You are welcome to bring in outside vendors for décor, entertainment, and extra supply rentals.
Casting & Auditions

Formal Corporate Board Meetings

Team Meetings & Training

Conferences, Expos, Conventions Or Forums

Charity Galas & Fundraising
Bar & Batmitzvah, Quinceañera, Sweet16

Celebrations Of Life, Memorials

Department, Group & Teamwork Sessions

Off-Site Development Sessions

Creative / Client Discussions, Sales Training
Motivational Training & Coaching

Neighborhood Socials, Meetings Or Gatherings

Planning Sessions & Collaboration

Wedding Ceremony / Reception & Vow Renewal

Awards Ceremonies Or Launch Events
Filmshoot, Photoshoot, Performances & Recitals

School Proms, Graduations & Reunions

Group Counselling / Therapy Sessions

Holiday, Anniversary, Birthday, Engagement & Retirement Parties & Banquets
We can arrange our event venues for streamlined functions and banquets.
Talk to our team if you want a corporate or formal business event with seminar, horseshoe or classroom training room arrangements. Our team is also expert at creating a fun atmosphere for a family or social party. If you have a reason to celebrate, consider Wedgewood Events to meet your needs. All our venues offer indoor and outside event space for your gathering.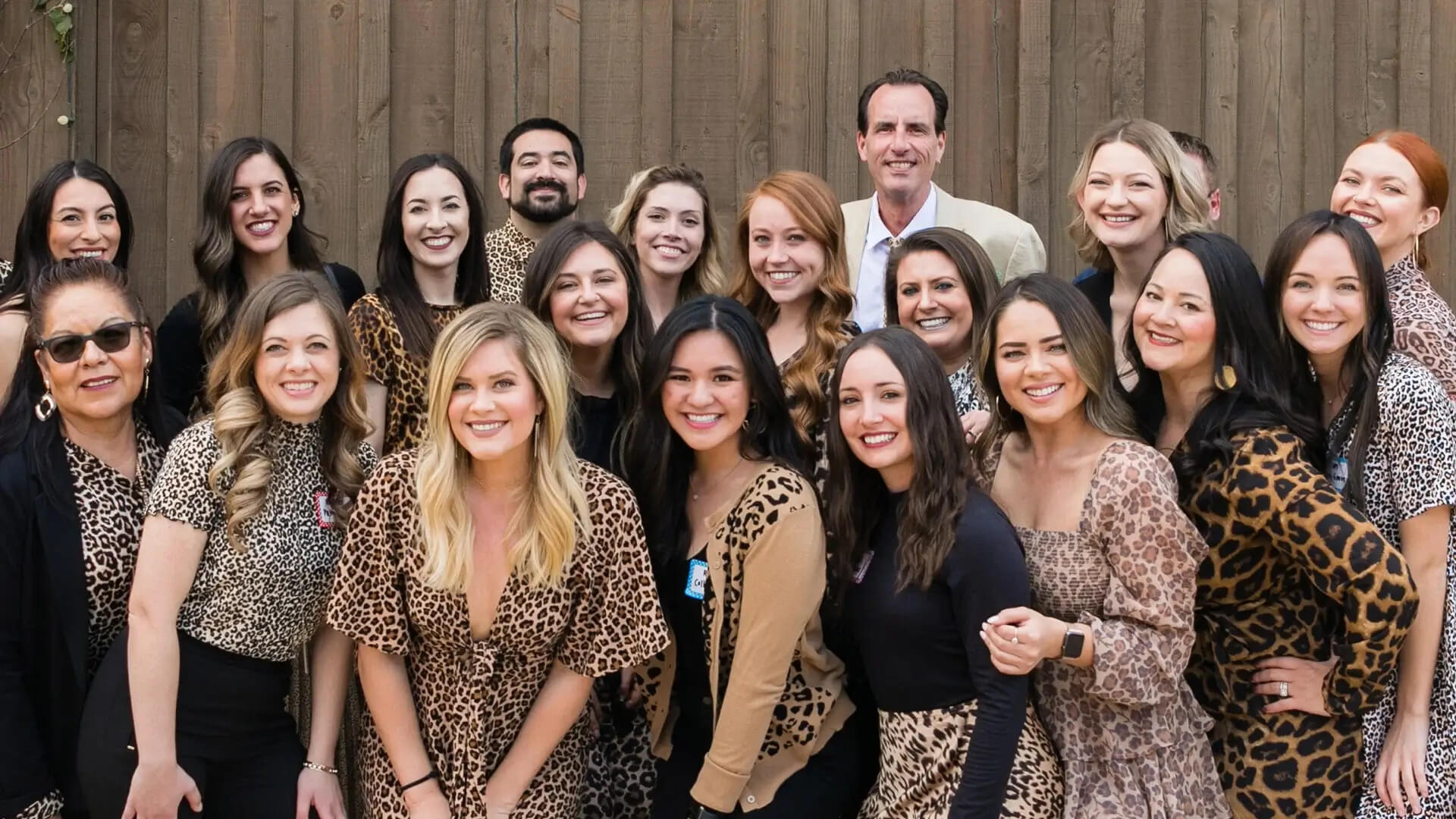 READY TO GET THIS

Party Started?
Learn about our venues, stress-free events planning process
and how we can make your day unforgettable.
CONTACT AN EVENT EXPERT
Get the latest event advice and help choosing a venue to suit your needs.