A classic historic chapel with a spacious grand hall, gorgeous open air courtyard, rustic accents, and vintage styling, The Sanctuary is a true hidden gem in the middle of one of America's most popular cities...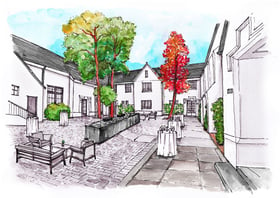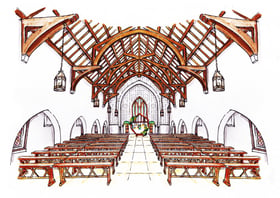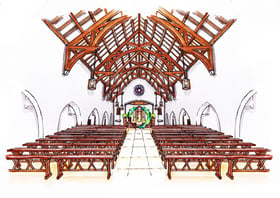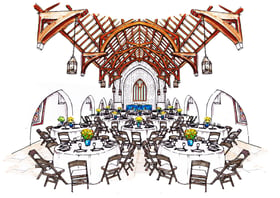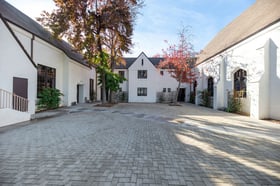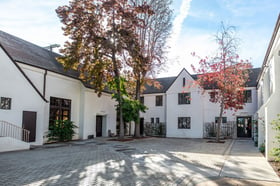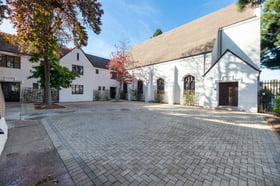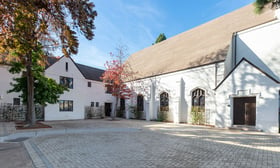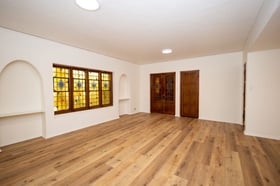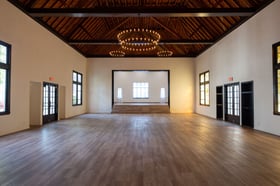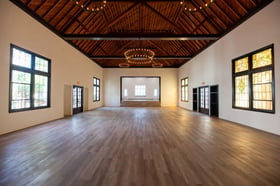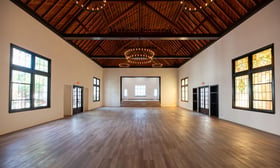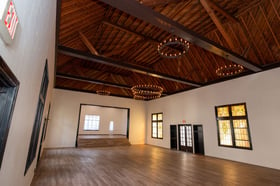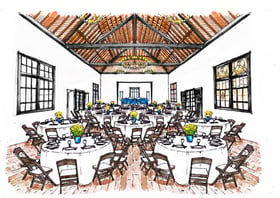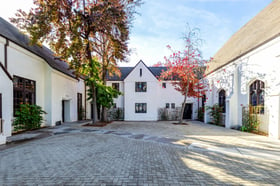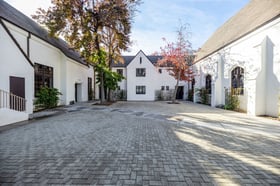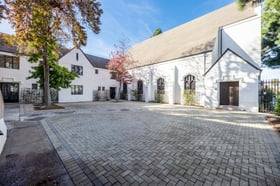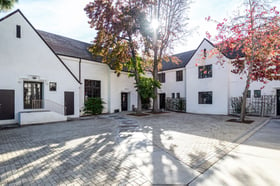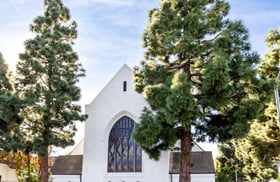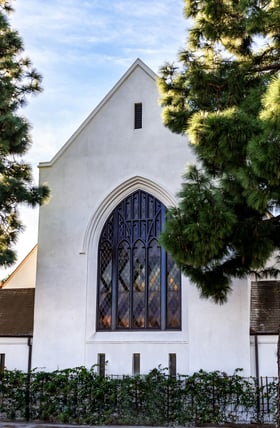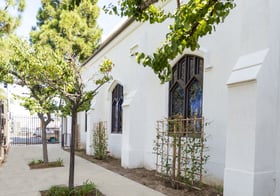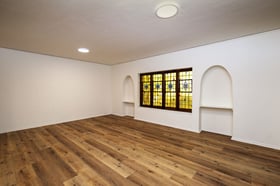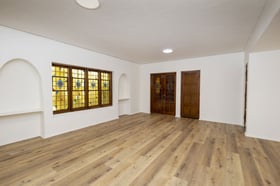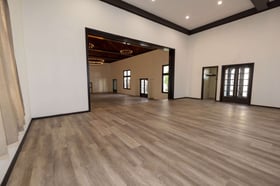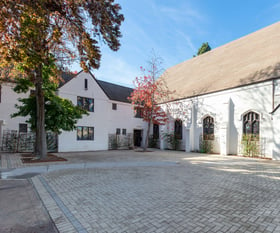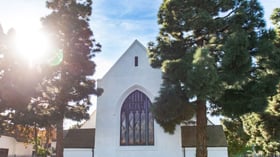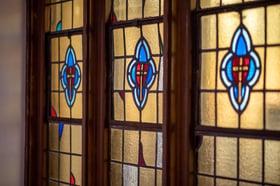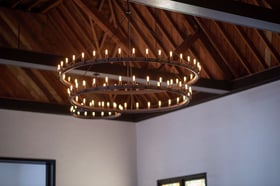 Host your next event in the heart of Long Beach surrounded by rustic features in a historic space at The Sanctuary by Wedgewood Events. This unique space includes breathtaking architectural elements, a variety of event spaces on a private lot, and a wonderfully convenient location for anyone that is looking for an easily accessible location in Los Angeles County.
Upon approaching The Sanctuary, guests are greeted by the towering chapel and gorgeous stained glass window that stands out against the white walls and dark grey roof of the building. They'll enter into a spacious outdoor courtyard, spacious enough to host a vibrant cocktail hour or a heartfelt ceremony.
Surrounded by wrought iron features, stained glass windows, and pitched roofs, this space takes guests into a world all its own. Events hosted in the chapel will be met with stunning cathedral ceilings, crisp white tile, and elaborate dark exposed wood beams. With the beautiful hints of rainbow lighting shining in through the myriad stained glass windows, this space dazzles for a variety of event styles.
From the west wing, over to the east, guests will enter into the grand hall, a stately space with vaulted ceilings, oak hardwood floors, and rustic wrought iron chandeliers. With a built-in stage, award ceremonies, presentations, and more all shine in this handsome location. With crisp white walls that contrast with the gorgeous hardwood accents of the flooring and the exposed wood beams, easily dress the grand hall up to suit your event's overall theme and décor.


Historic landmark with Spanish-style architecture

Gorgeous stained glass windows throughout spaces

Secluded space with ease of flow for guests

Rustic accents with white walls and dark wood details

Conveniently located near the Long Beach Convention Center


The Sanctuary, in addition to it's vintage vibes, comes with an onsite planning team that will help bring your corporate, family, or social gathering to life. With all-inclusive package options, you'll leave your tour knowing exactly what to expect from your planning experience with The Sanctuary at Wedgewood Events in addition to a stress-free coordination experience that will allow you to focus more on other event details while we handle the rest.

Conveniently located near Alamitos Beach, the Long Beach Convention Center, and The Queen Mary ocean liner, out-of-state guests love the variety of activities and sites available. In-town attendees can enjoy morning, afternoon, evening, or full-day gatherings with a short drive to the nearby 405 and 710 freeways for ease of access.

Start planning your event today, come tour The Sanctuary by Wedgewood Events for yourself and see all that there is to enjoy a this historic space.
EVENT VENUE LOCATION
Long Beach, CA
Venue Type
Historic Landmark converted into a stately event space
The entire process from beginning to end was amazing! Everyone was quick to answer any questions that I had, and made the planning experience so much more enjoyable. The staff on the day of the event was amazing! Our banquet captain was quick to make sure we were taken care of and was always one step ahead of us at all times. The bartender made sure that everyone had an amazing time and had such a positive and contagious energy that everyone raved about. We also received so many compliments on the food, so thank you to the chefs! I just want to say thank you again to the team for being so great from start to finish, we have been receiving so many compliments about everything and I will always be recommending this venue and company. Thank you!
Rachel T.
Chino, California
The fact alone that they already have the florist, dinner, desserts, DJ, and venue space all included in their cost makes it a wonderful one stop shop! You can also use the photographer that they partner with. Wedgewood Events really makes it super easy to take care of a lot of these things that we would otherwise have spent hours researching. And on wedding day, their team is wonderful in helping us and taking care of so many things, allowing us to focus on the wedding itself while knowing that all of these things (example the shuttles we got) were being taken care of. It was truly a wonderful experience and I'd highly encourage anyone to book their event here.
Troy N.
Pleasanton, California
The team at Wedgewood Events went above and beyond to make our big event possible. Everything went seamlessly and we keep hearing raving reviews from our guests at the event as well. If you're looking to work with a team who really knows what they're doing, this is the group for you!
Courtney R.
San Diego, California
CONTACT AN EVENT EXPERT
Get the latest event advice and help choosing a venue to suit your needs.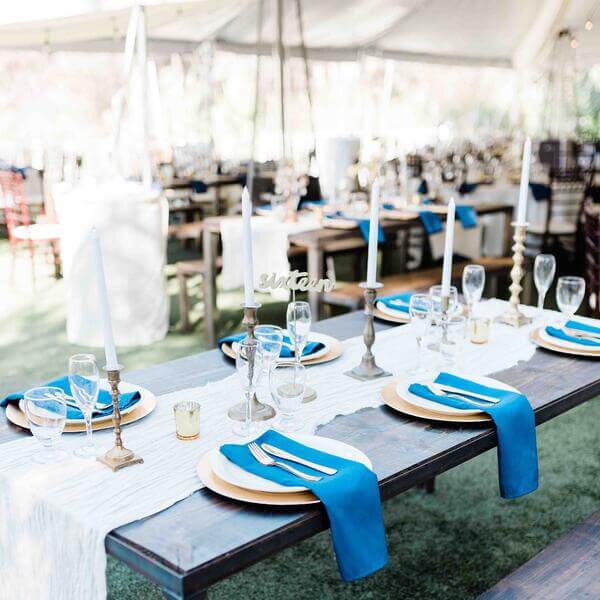 WHY CHOOSE

Wedgewood Events?
Wedgewood Events is a venue specialist with stunning locations from coast to coast. Explore our range of venues to find the best match for your meeting and event needs. From historic to rustic or luxurious and elegant we have the ideal event space for you!
EXPERT EVENT HOSTS FOR
EVERY EVENT TYPE
Our team provides the venue space for your event. We always provide in-house catering and bar services if needed. You are welcome to bring in outside vendors for décor, entertainment, and extra supply rentals.
Casting & Auditions

Formal Corporate Board Meetings

Team Meetings & Training

Conferences, Expos, Conventions Or Forums

Charity Galas & Fundraising
Bar & Batmitzvah, Quinceañera, Sweet16

Celebrations Of Life, Memorials

Department, Group & Teamwork Sessions

Off-Site Development Sessions

Creative / Client Discussions, Sales Training
Motivational Training & Coaching

Neighborhood Socials, Meetings Or Gatherings

Planning Sessions & Collaboration

Wedding Ceremony / Reception & Vow Renewal

Awards Ceremonies Or Launch Events
Filmshoot, Photoshoot, Performances & Recitals

School Proms, Graduations & Reunions

Group Counselling / Therapy Sessions

Holiday, Anniversary, Birthday, Engagement & Retirement Parties & Banquets
We can arrange our event venues for streamlined functions and banquets.
Talk to our team if you want a corporate or formal business event with seminar, horseshoe or classroom training room arrangements. Our team is also expert at creating a fun atmosphere for a family or social party. If you have a reason to celebrate, consider Wedgewood Events to meet your needs. All our venues offer indoor and outside event space for your gathering.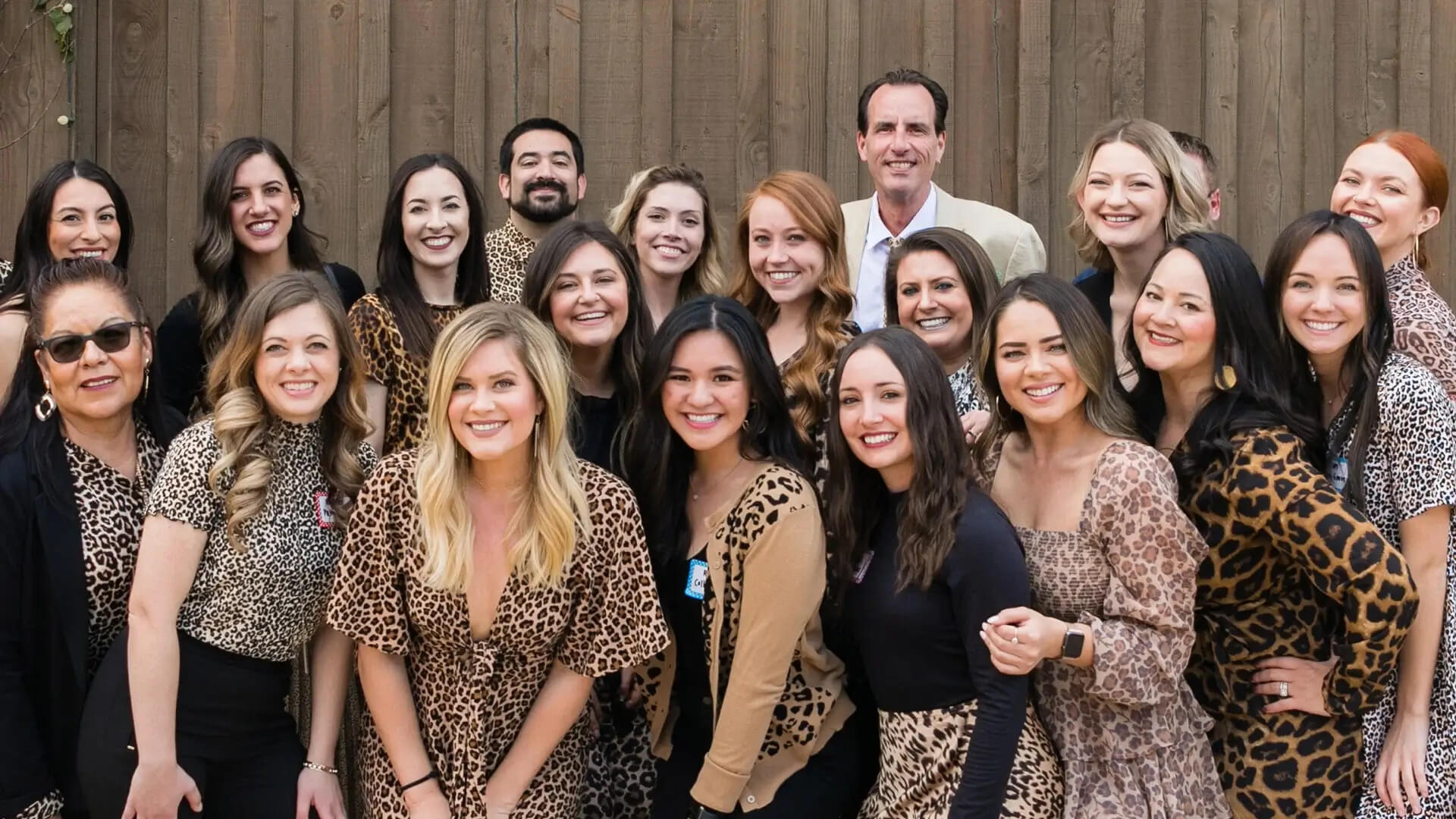 READY TO GET THIS

Party Started?
Learn about our venues, stress-free events planning process
and how we can make your day unforgettable.
CONTACT AN EVENT EXPERT
Get the latest event advice and help choosing a venue to suit your needs.