This secret garden oasis is a fairytale. An enchanting lily pond, ethereal pavilion & open-air kitchen create a timeless escape. The classic bandstand in the middle of the reflecting pool, the ultimate intimate...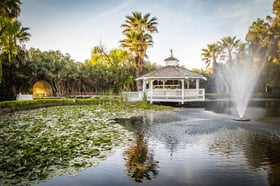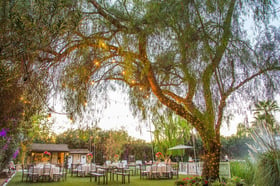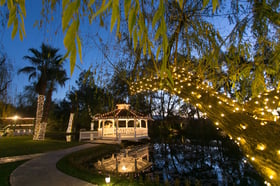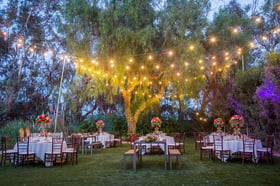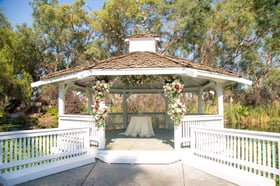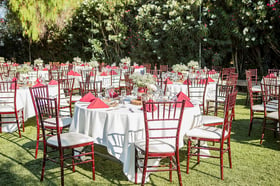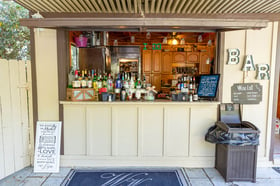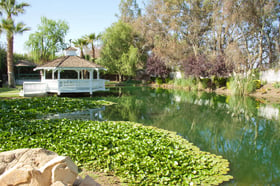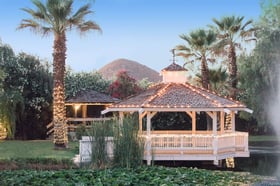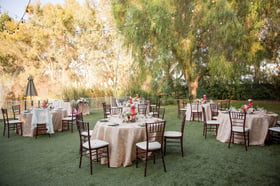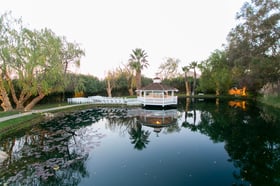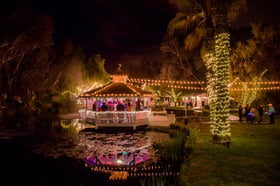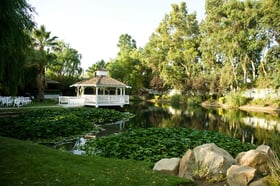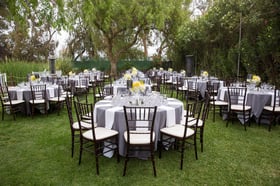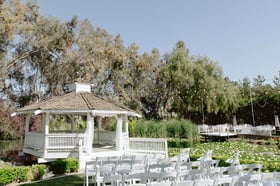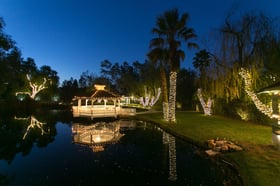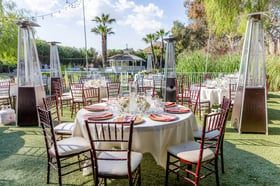 The Orchard by Wedgewood Events is an ideal fairytale escape. This outdoor-only event venue is ideal for parties and gatherings of all sizes. Your guests will love the tranquil lake, rustic charm, and back-to-nature vibe at this dedicated event venue.
A true SoCal oasis, the lush beauty of The Orchard by Wedgewood Events will absolutely amaze you. Enjoy a secluded feel surrounded by dramatic willow trees, twinkle lights, and a sparkling lily pond - all under the glowing stars or perfect, blue skies! The spacious and charming gazebo ties it all together to make for a perfect fairytale-style event space. Your guests will be astonished by the stunning natural backdrop and remarkable privacy, tucked away in the town of Menifee, CA.
Versatile Event Spaces For Formal & Informal Gatherings
Charming scenery for photos
Twinkling tree lights
Enchanting Garden with a Large Lily Pond
Secluded location Close to Town
The Orchard by Wedgewood Events has a wonderfully secluded feel, yet it's easily reachable from San Bernardino and San Diego Counties. The Orchard is perfect for guests from Murrieta, Temecula, Fallbrook, Hemet, Lake Elsinore, Canyon Lake, Moreno Valley, Perris, Fallbrook, Pala, Winchester, Wildomar, and San Jacinto.
The Orchard is a unique and spectacular venue. Travel through the vine-clad dome to reach your own garden paradise complete with a sun-dappled lake, bistro lights, and modern conveniences - in the heart of the Inland Empire. We keep The Orchard a secret surprise that will wow your guests who never guessed at this hidden hideaway.
EVENT VENUE LOCATION
Temecula Area, CA
Venue Type
Lakeside Entertainment at This All-Outdoor Event Venue That Pairs Rustic With Breathtaking
I have been to The Orchard by Wedgewood Events for two different events. This place is beautiful. There is a pond, waterfall, these spaying fountains (inside the pond), a nicely manicured lawn that surrounds a gazebo, and more. Another cool feature is that it's a very private location. The fencing and plants that border The Orchard provide a natural privacy barrier. I highly recommend using this place for your next event.
Kenny T.
Los Angeles, California
This is an oasis in the middle of the desert. It has beautiful photo op areas and feels so private. The team took such good care of my guests. Food was delicious as well. Lots of our guest went back for seconds! I'd recommend this venue for any special event. Don't let it fool you, you are in for a treat once you get into the venue.
Anna M.
San Diego, California
This venue is everything!!! So beautiful! The pictures don't do it justice. Looks like you're stepping into another world. There is nothing else like it in SoCal. The staff is amazing and they help take the stress off of event planning! Always available via email to answer any of my questions!
Bryan D.
Daly City, California
CONTACT AN EVENT EXPERT
Get the latest event advice and help choosing a venue to suit your needs.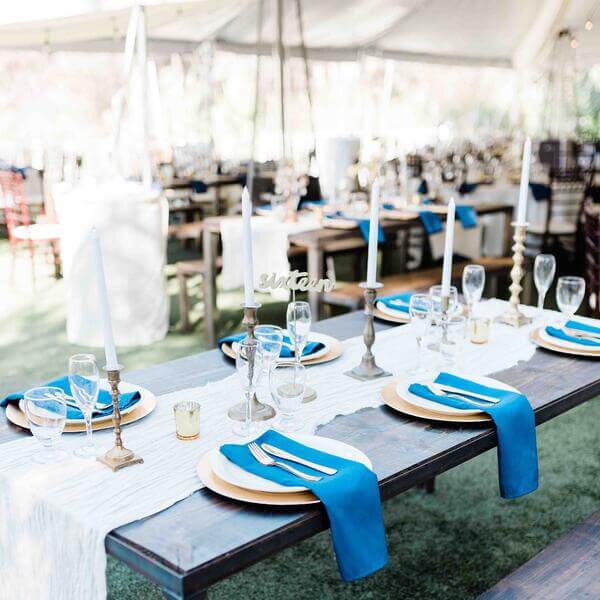 WHY CHOOSE

Wedgewood Events?
Wedgewood Events is a venue specialist with stunning locations from coast to coast. Explore our range of venues to find the best match for your meeting and event needs. From historic to rustic or luxurious and elegant we have the ideal event space for you!
EXPERT EVENT HOSTS FOR
EVERY EVENT TYPE
Our team provides the venue space for your event. We always provide in-house catering and bar services if needed. You are welcome to bring in outside vendors for décor, entertainment, and extra supply rentals.
Casting & Auditions

Formal Corporate Board Meetings

Team Meetings & Training

Conferences, Expos, Conventions Or Forums

Charity Galas & Fundraising
Bar & Batmitzvah, Quinceañera, Sweet16

Celebrations Of Life, Memorials

Department, Group & Teamwork Sessions

Off-Site Development Sessions

Creative / Client Discussions, Sales Training
Motivational Training & Coaching

Neighborhood Socials, Meetings Or Gatherings

Planning Sessions & Collaboration

Wedding Ceremony / Reception & Vow Renewal

Awards Ceremonies Or Launch Events
Filmshoot, Photoshoot, Performances & Recitals

School Proms, Graduations & Reunions

Group Counselling / Therapy Sessions

Holiday, Anniversary, Birthday, Engagement & Retirement Parties & Banquets
We can arrange our event venues for streamlined functions and banquets.
Talk to our team if you want a corporate or formal business event with seminar, horseshoe or classroom training room arrangements. Our team is also expert at creating a fun atmosphere for a family or social party. If you have a reason to celebrate, consider Wedgewood Events to meet your needs. All our venues offer indoor and outside event space for your gathering.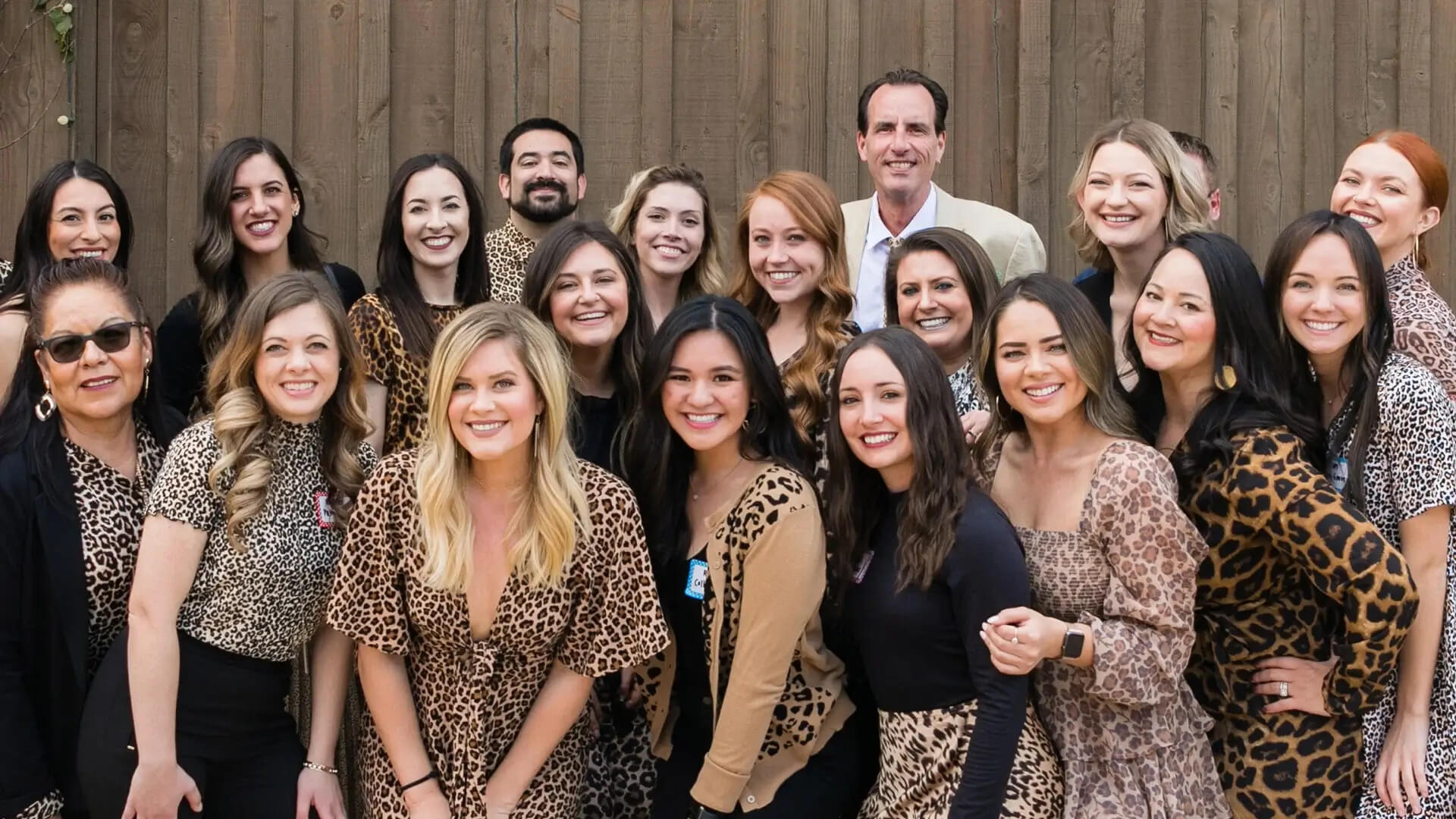 READY TO GET THIS

Party Started?
Learn about our venues, stress-free events planning process
and how we can make your day unforgettable.
CONTACT AN EVENT EXPERT
Get the latest event advice and help choosing a venue to suit your needs.