Built in 1864, this quaint chapel has been lovingly maintained while also modernized to include a wall of glass and forest views as the alter backdrop. White timber building, colored glass, exposed beams...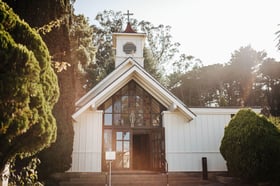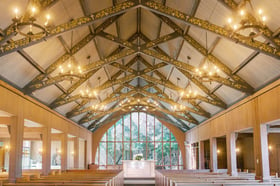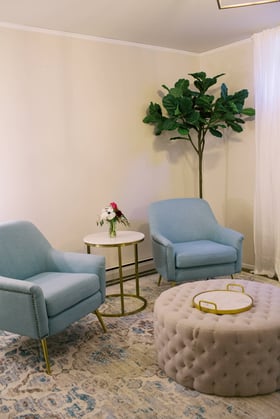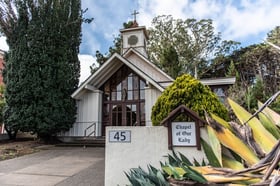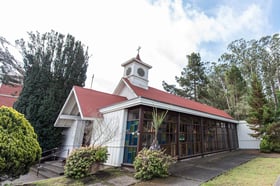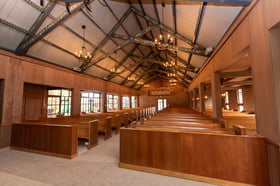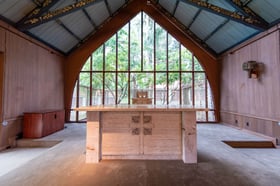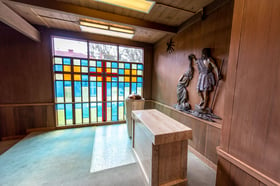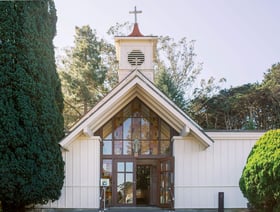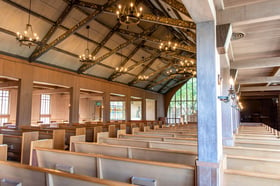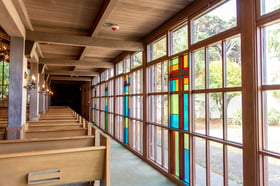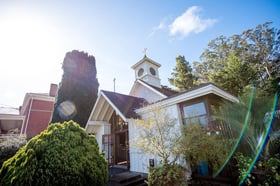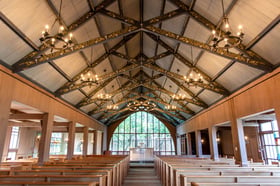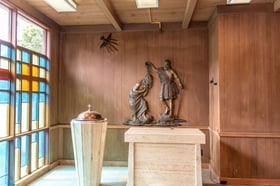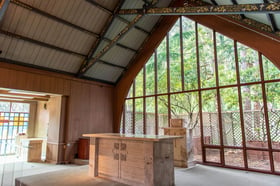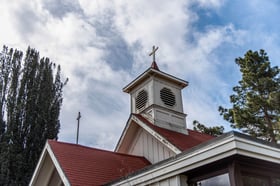 Built in 1864, the quaint Chapel of Our Lady was the Presidio's first house of worship. Generations of military personnel attended services in this non-denominational site. The Chapel is located within the Main Post - the cultural heart of the Presidio - near the Inn at the Presidio and the Presidio Officers' Club. Today, it is a favorite backdrop for wedding ceremonies, meetings, and concerts. It is also available for memorial services.
In the heart of the Presidio, you'll find the historic Chapel of Our Lady. Enjoy San Francisco's natural beauty as the picturesque backdrop. This historic venue radiates charming beauty, making it the perfect location for every type of gathering.
EVENT VENUE LOCATION
San Francisco, CA
Venue Type
Historic Chapel in the Heart of the Presidio. Suitable for Devout and Non-Religious Events.
Chapel of Our Lady


REVIEWS
We love the intimate feel of the Chapel of Our Lady. We also love the ceiling rafters and their designs as well as the big window behind the altar. It was the perfect place. The team made the process of planning and scheduling for our wedding ceremony very easy because of their organization and communication skills
Jennifer C.
San Francisco, CA
The chapel was even more quaint and perfect than we had anticipated. The style is very simple, but elegant. Highlights include a huge window at the front of the church, rustic chandeliers, and stained glass. We held our ceremony here last month, followed by a reception at the Golden Gate Club. It's a pretty special feeling to look out from the altar at a chapel filled to the brim with your closest family and friends!
Stephanie M.
Newport News, VA
If you dream of the warmly lit, quaint chapel wedding then you're thinking of The Chapel of Our Lady. The exposed beams are tooled with charming flower tendrils, the honey hued wood is inviting and the whole structure is a miniature fairytale waiting to happen. You're in the Presidio, history surrounds! An adorable and beautiful location.
Katie W.
Sonoma, CA
CONTACT AN EVENT EXPERT
Get the latest event advice and help choosing a venue to suit your needs.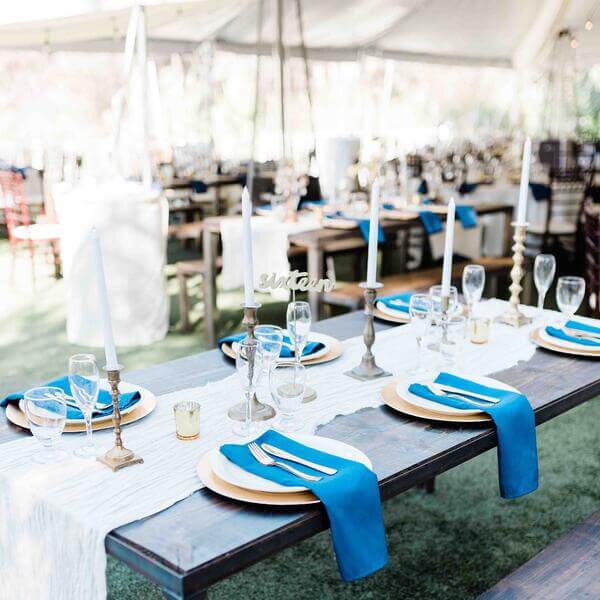 WHY CHOOSE

Wedgewood Events?
Wedgewood Events is a venue specialist with stunning locations from coast to coast. Explore our range of venues to find the best match for your meeting and event needs. From historic to rustic or luxurious and elegant we have the ideal event space for you!
EXPERT EVENT HOSTS FOR
EVERY EVENT TYPE
Our team provides the venue space for your event. We always provide in-house catering and bar services if needed. You are welcome to bring in outside vendors for décor, entertainment, and extra supply rentals.
Casting & Auditions

Formal Corporate Board Meetings

Team Meetings & Training

Conferences, Expos, Conventions Or Forums

Charity Galas & Fundraising
Bar & Batmitzvah, Quinceañera, Sweet16

Celebrations Of Life, Memorials

Department, Group & Teamwork Sessions

Off-Site Development Sessions

Creative / Client Discussions, Sales Training
Motivational Training & Coaching

Neighborhood Socials, Meetings Or Gatherings

Planning Sessions & Collaboration

Wedding Ceremony / Reception & Vow Renewal

Awards Ceremonies Or Launch Events
Filmshoot, Photoshoot, Performances & Recitals

School Proms, Graduations & Reunions

Group Counselling / Therapy Sessions

Holiday, Anniversary, Birthday, Engagement & Retirement Parties & Banquets
We can arrange our event venues for streamlined functions and banquets.
Talk to our team if you want a corporate or formal business event with seminar, horseshoe or classroom training room arrangements. Our team is also expert at creating a fun atmosphere for a family or social party. If you have a reason to celebrate, consider Wedgewood Events to meet your needs. All our venues offer indoor and outside event space for your gathering.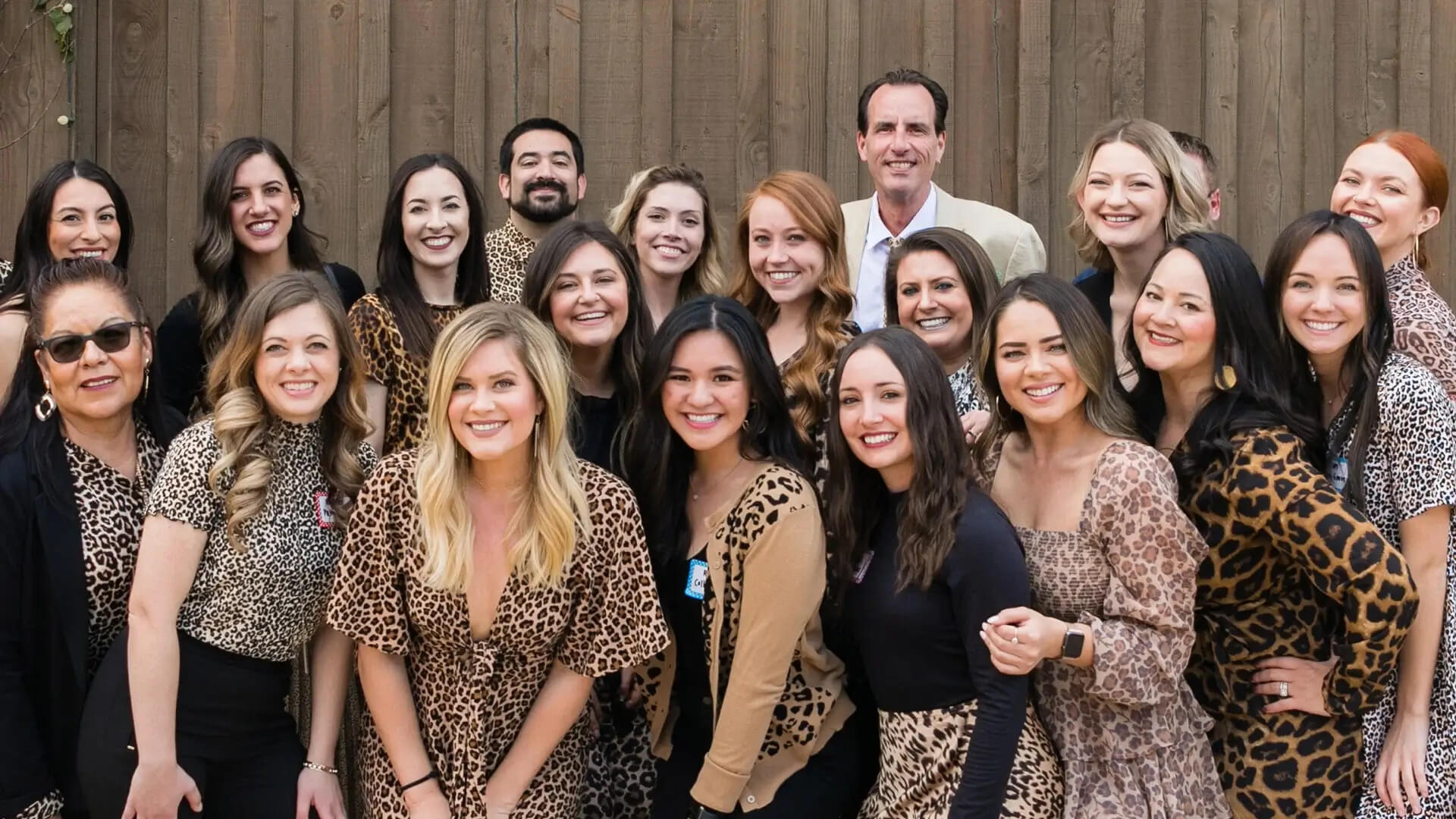 READY TO GET THIS

Party Started?
Learn about our venues, stress-free events planning process
and how we can make your day unforgettable.
CONTACT AN EVENT EXPERT
Get the latest event advice and help choosing a venue to suit your needs.