Glorious historic mansion featuring exquisite period features & furnishings. Bay views, stone fountains, flagstone courtyard with bistro-lights & chandelier embellished marquee. Explore this unique event space...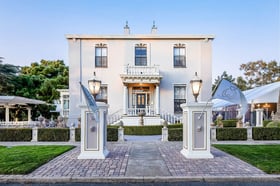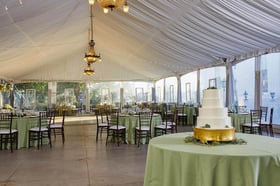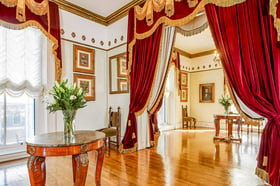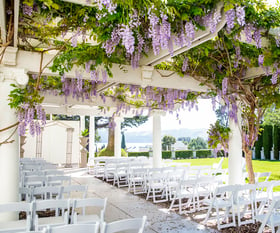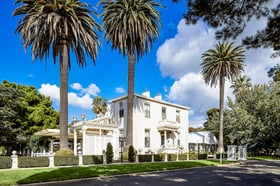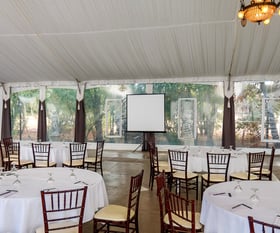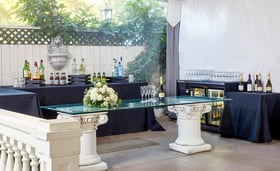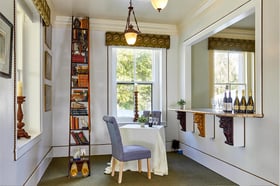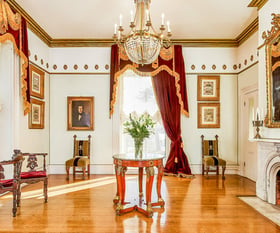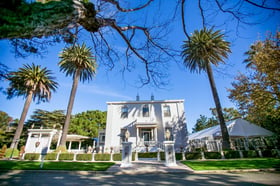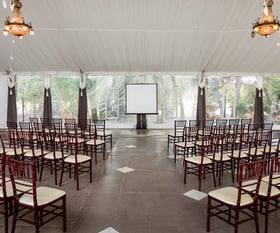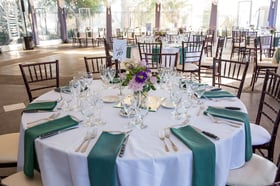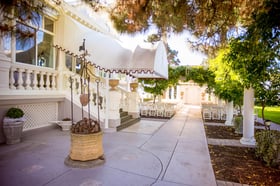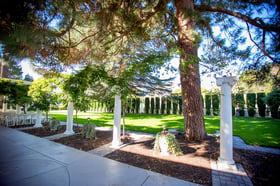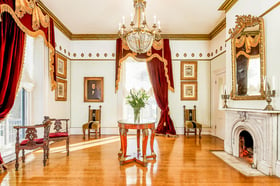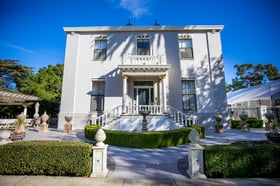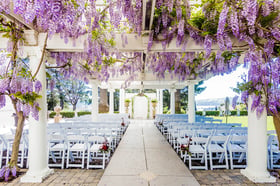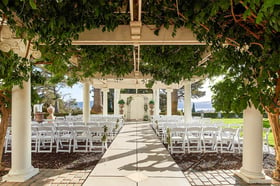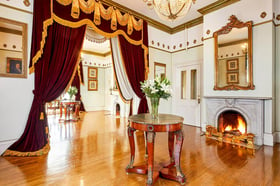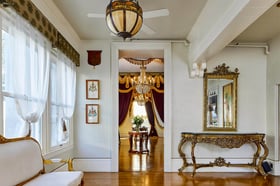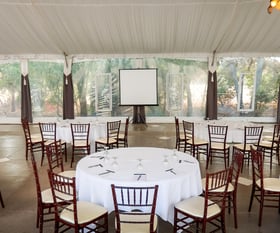 Through manicured hedges and an Italian-style colonnade, step inside the magnificent grandeur of this Victorian estate. Inspired by the elegant and eclectic style of Queen Victoria, this boutique event venue offers a vintage haven. Enjoy the wisteria-draped veranda, glimmering bay waters, and the meticulously-designed surroundings of the stunning mansion - both inside and out! It's obvious why this radiant locale is a winner of the 'Best of the Bay' event center award.
Jefferson Street Mansion by Wedgewood Events is one of the Bay Area's most striking event venues: winner of the coveted 'Best of the Bay' award. With expansive views of the coast, stunning curb appeal, extravagant vintage decor, manicured landscaping, and a lush wisteria-draped arbor. The versatile and charming event spaces at Jefferson St Mansion mean that this venue is perfect for every type of gathering.
Versatile Event Spaces For Formal & Informal Gatherings
Exquisite Bay Views
Mature Garden with Verdant Foliage
Tented Pavilion with Market Lights
Decadent Period Décor, with Sumptuous Fixtures
Mansion House for Guest Exploration & Hundreds of One-of-a-kind Photos
Private Access & Tranquil Neighborhood for a VIP Ambiance
Jefferson Street Mansion by Wedgewood Events is easily reachable from Napa and Contra Costa Counties. By choosing this gorgeous mansion, event organizers can luxuriate in an easy, relaxing, and stress-free planning experience while also hosting a stunning event that wows every guest! As with all Wedgewood Event venues, our dedicated event planning team makes everything feel like a breeze.
This unique event space is ideal for guests from near and far, including Vallejo, Fairfield, Napa, Sonoma, Concord, Martinez, Richmond, Walnut Creek, San Pablo, Petaluma, Pleasant Hill, Antioch, Lafayette, San Ramon, Pleasanton, Livermore, Oakland, and Berkeley.
Arrange a one-on-one venue tour to explore the intricacies of Jefferson St Mansion. We love this venue because it holds true to its historic roots but it's easy to adapt to make it enhance any event theme you want to create. At Wedgewood Events, we make a deep commitment to you: we promise to make event planning easy by helping you choose and customize an exclusive event package, giving you a team of event experts who will answer your questions day or night, and access to our fabulous team of artisanal vendor partners.
EVENT VENUE LOCATION
Historic Benicia, CA
Venue Type
Colonial Fixtures at This Extravagant Historic Manor With Bay Views and Superb Gardens
Jefferson Street Mansion


REVIEWS
The first time I saw this venue I was amazed!! I am a professional event photographer and I was so excited when I did my first wedding there!! I had no idea Benicia would have a venue so gorgeous like this one!!
Nayra B.
Suisan City, California
The team at Jefferson Street Mansion by Wedgewood Events did an excellent job in executing everything we wanted. The mansion is so freaking gorgeous! Our event was EXACTLY how we envisioned and more thanks to their amazing team! I knew I wouldn't have a problem working with Wedgewood Events as we've hosted other family occasions at their other venues. Thank you so much for all that you have done for us!
Mike M.
Oakland, California
This place is a dream! I cannot tell you how many compliments we received from our guests on how beautiful the venue was... the rich history, the perfect views, and the food! This place is a steal for the value you get out of it - tangible and intangible. I highly recommend them!
Kristen M.
San Diego, California
CONTACT AN EVENT EXPERT
Get the latest event advice and help choosing a venue to suit your needs.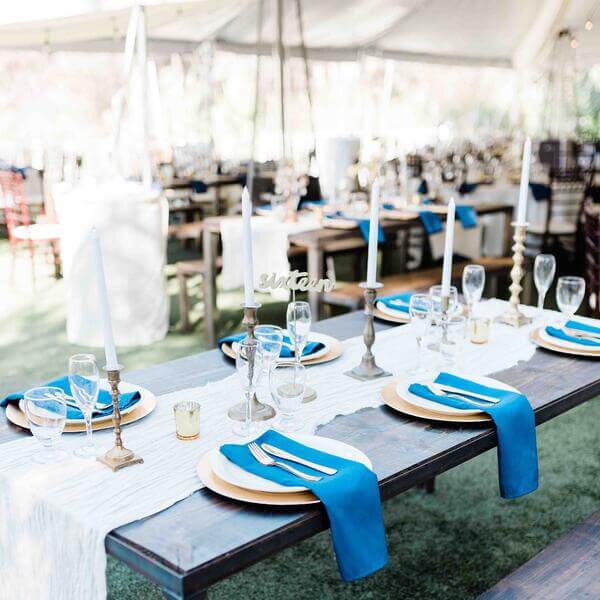 WHY CHOOSE

Wedgewood Events?
Wedgewood Events is a venue specialist with stunning locations from coast to coast. Explore our range of venues to find the best match for your meeting and event needs. From historic to rustic or luxurious and elegant we have the ideal event space for you!
EXPERT EVENT HOSTS FOR
EVERY EVENT TYPE
Our team provides the venue space for your event. We always provide in-house catering and bar services if needed. You are welcome to bring in outside vendors for décor, entertainment, and extra supply rentals.
Casting & Auditions

Formal Corporate Board Meetings

Team Meetings & Training

Conferences, Expos, Conventions Or Forums

Charity Galas & Fundraising
Bar & Batmitzvah, Quinceañera, Sweet16

Celebrations Of Life, Memorials

Department, Group & Teamwork Sessions

Off-Site Development Sessions

Creative / Client Discussions, Sales Training
Motivational Training & Coaching

Neighborhood Socials, Meetings Or Gatherings

Planning Sessions & Collaboration

Wedding Ceremony / Reception & Vow Renewal

Awards Ceremonies Or Launch Events
Filmshoot, Photoshoot, Performances & Recitals

School Proms, Graduations & Reunions

Group Counselling / Therapy Sessions

Holiday, Anniversary, Birthday, Engagement & Retirement Parties & Banquets
We can arrange our event venues for streamlined functions and banquets.
Talk to our team if you want a corporate or formal business event with seminar, horseshoe or classroom training room arrangements. Our team is also expert at creating a fun atmosphere for a family or social party. If you have a reason to celebrate, consider Wedgewood Events to meet your needs. All our venues offer indoor and outside event space for your gathering.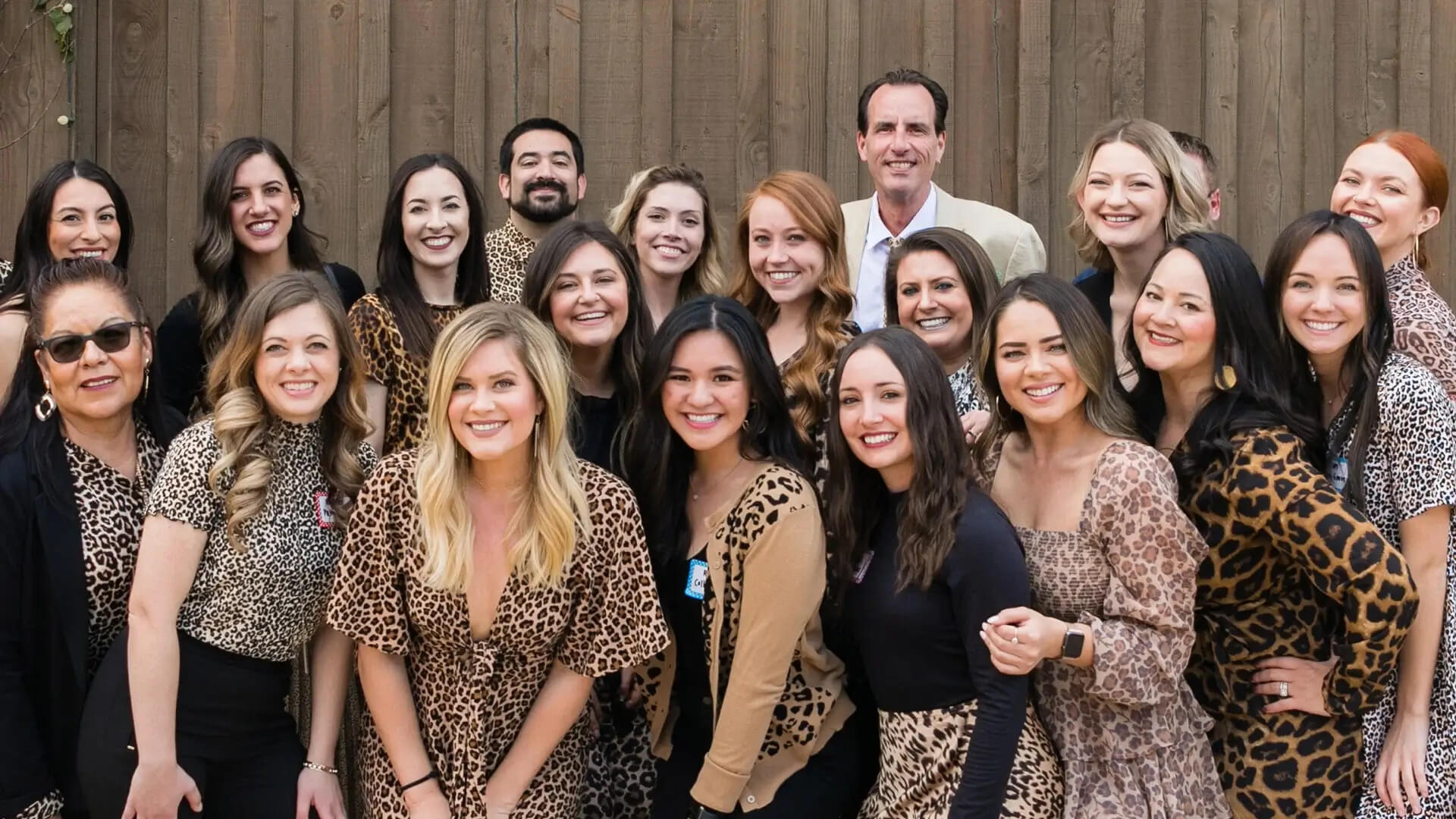 READY TO GET THIS

Party Started?
Learn about our venues, stress-free events planning process
and how we can make your day unforgettable.
CONTACT AN EVENT EXPERT
Get the latest event advice and help choosing a venue to suit your needs.