Historic, rustic cabin with generous lawn with Golden Gate and San Francisco skyline views. Gorgeous timber interior with whole tree beams and pillars. Large picture windows, oversized fireplace, beautiful features...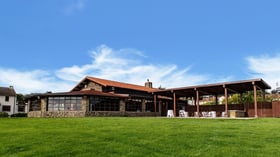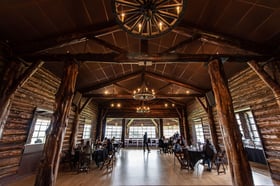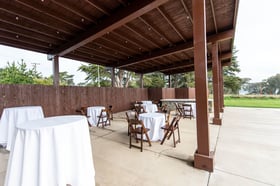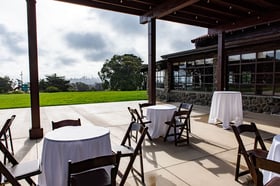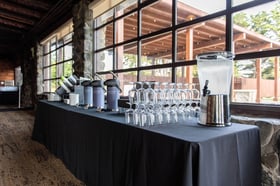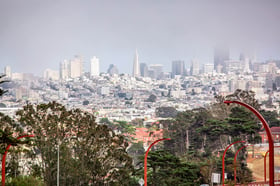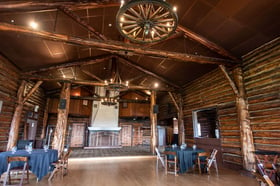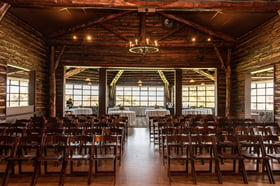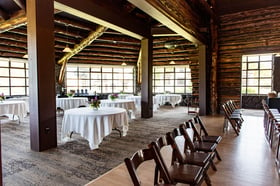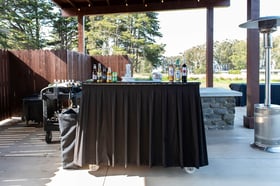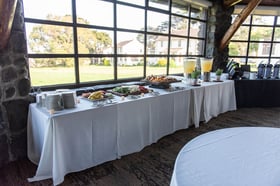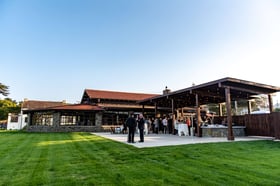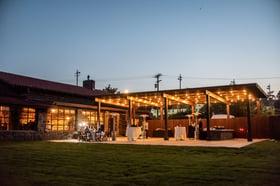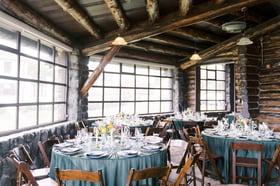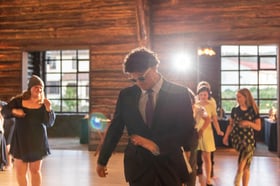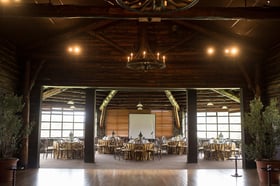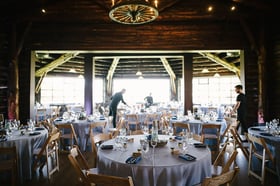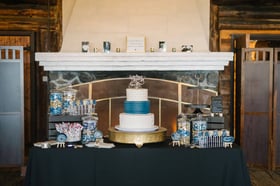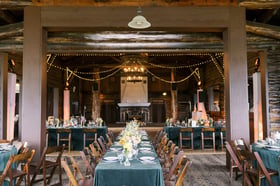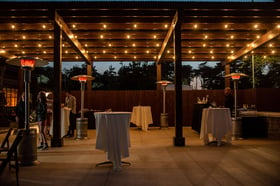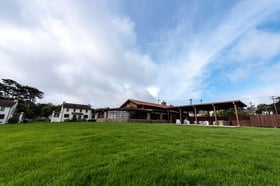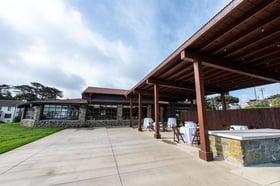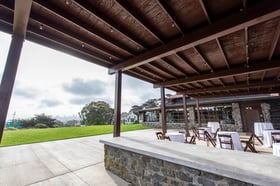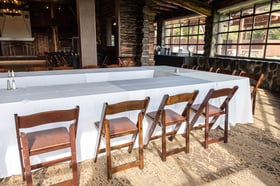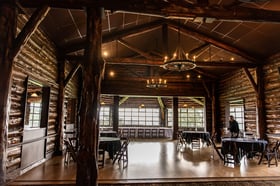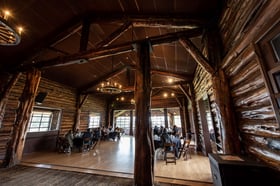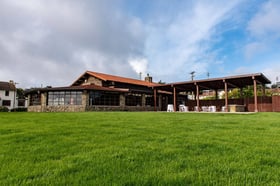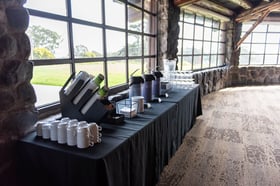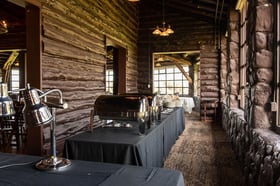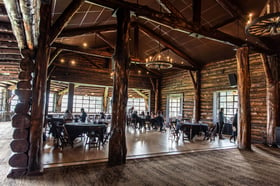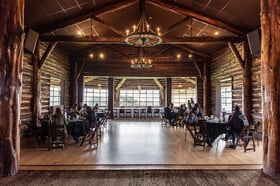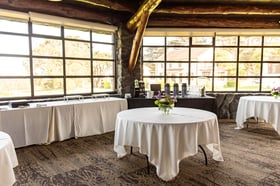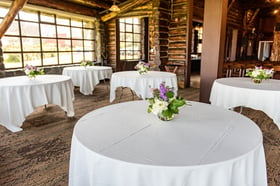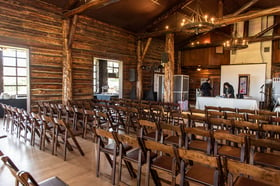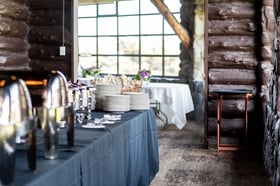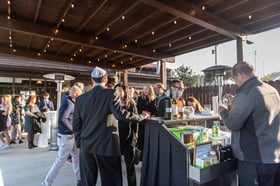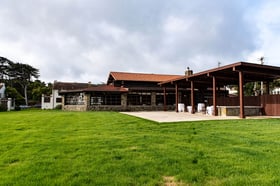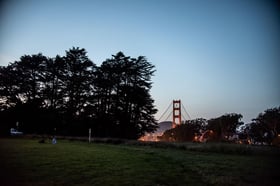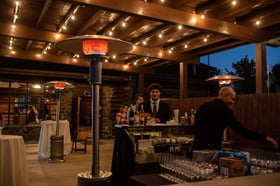 Originally a non-commissioned officers' club built-in 1937, the historic Log Cabin is one of San Francisco's only log cabin venues. Located within the Fort Scott campus along the Presidio's western shore, not far from the Golden Gate Bridge, this rustic cabin has a large lawn ideal for wedding ceremonies or receptions and offers panoramic views of the San Francisco skyline.
A haven in the bay area, this picturesque event venue boasts a beautiful lawn with exceptional bay views and a laid-back vibe. The cabin interior is reminiscent of a grand country lodge with an oversized fireplace and chandeliers, huge scenic windows, and old-wood décor.
EVENT VENUE LOCATION
San Francisco, CA
Venue Type
Rustic Event Venue With Huge Lawn Overlooking San Francisco Skyline and Golden Gate Bridge
My wife and I hosted our pre-wedding rehearsal hoe down at the Presidio Log Cabin this September. It was the perfect location! The team were an absolute joy to work with. We were able to accommodate a 7-person country western band and ~175 people with ease. The Log Cabin is truly a unique and rather undiscovered gem!
Derek T.
San Francisco, CA
Very affordable, delightful, rustic location. Ample parking, private, lots of space, beautiful, big fireplace. It's rustic, but festive, and just a great space. The folks there were easy to work with, but it books quickly. It was a really nice oasis within the city.
Melissa R.
Costa Mesa, CA
Nice little location tucked away on the row of barracks, across from the softball fields. The front is log cabin, but the back is mostly stone. It has really nice big windows that lookout over the bay and the back yard is surprisingly spacious and pretty.
Rob K.
San Francisco, CA
CONTACT AN EVENT EXPERT
Get the latest event advice and help choosing a venue to suit your needs.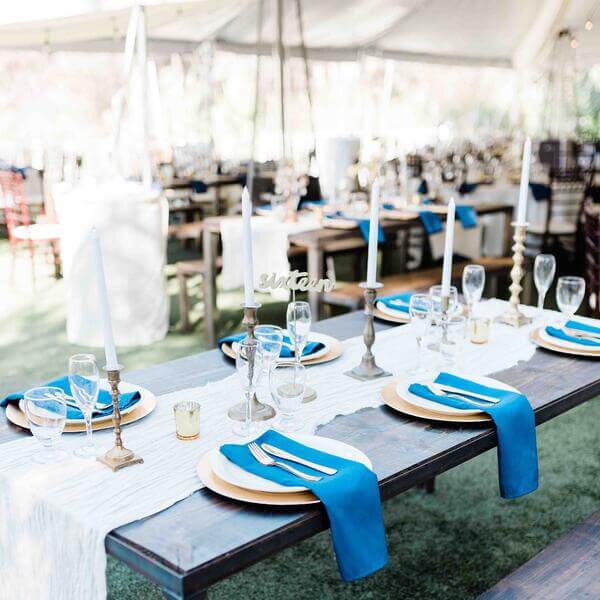 WHY CHOOSE

Wedgewood Events?
Wedgewood Events is a venue specialist with stunning locations from coast to coast. Explore our range of venues to find the best match for your meeting and event needs. From historic to rustic or luxurious and elegant we have the ideal event space for you!
EXPERT EVENT HOSTS FOR
EVERY EVENT TYPE
Our team provides the venue space for your event. We always provide in-house catering and bar services if needed. You are welcome to bring in outside vendors for décor, entertainment, and extra supply rentals.
Casting & Auditions

Formal Corporate Board Meetings

Team Meetings & Training

Conferences, Expos, Conventions Or Forums

Charity Galas & Fundraising
Bar & Batmitzvah, Quinceañera, Sweet16

Celebrations Of Life, Memorials

Department, Group & Teamwork Sessions

Off-Site Development Sessions

Creative / Client Discussions, Sales Training
Motivational Training & Coaching

Neighborhood Socials, Meetings Or Gatherings

Planning Sessions & Collaboration

Wedding Ceremony / Reception & Vow Renewal

Awards Ceremonies Or Launch Events
Filmshoot, Photoshoot, Performances & Recitals

School Proms, Graduations & Reunions

Group Counselling / Therapy Sessions

Holiday, Anniversary, Birthday, Engagement & Retirement Parties & Banquets
We can arrange our event venues for streamlined functions and banquets.
Talk to our team if you want a corporate or formal business event with seminar, horseshoe or classroom training room arrangements. Our team is also expert at creating a fun atmosphere for a family or social party. If you have a reason to celebrate, consider Wedgewood Events to meet your needs. All our venues offer indoor and outside event space for your gathering.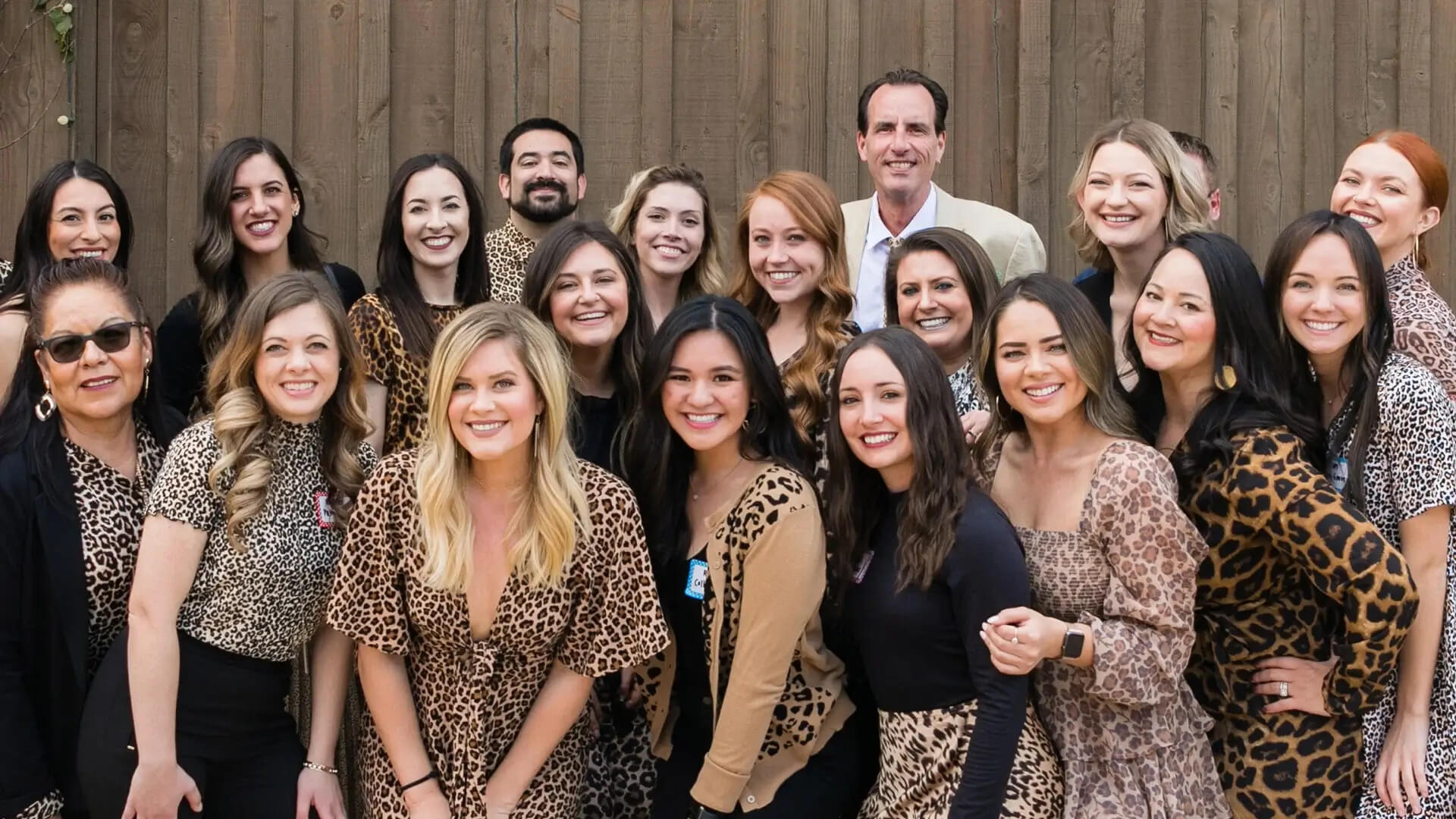 READY TO GET THIS

Party Started?
Learn about our venues, stress-free events planning process
and how we can make your day unforgettable.
CONTACT AN EVENT EXPERT
Get the latest event advice and help choosing a venue to suit your needs.