Venue Type
National Park with choice of tremendous event locations to suit every type of open air or indoor event within the Historic National Landmark District
KEY EVENTS AREAS
Gather at historic landmarks where officers and enlisted men used to raise a glass in years gone by.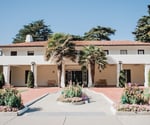 Nestled among groves of cypress and pine, this 1940s-era Mission beauty has plenty of period details to give your gala real character.
The intimate Hawthorn, Cypress and Prince ballrooms all offer period architecture and high ceilings. Receptions are dazzling in the Ventana Room, whose two-story window wall hugs a green meadow edged with trees, while the bay shimmers in the distance. The lofty cathedral ceiling and large fireplace, combined with the natural environment just outside, impart a sense of serenity.
You can book space at the Golden Gate Club or a full buy-out to secure the entire venue for your event.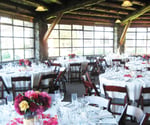 Built in 1937, the Presidio's Log Cabin is the former non-commissioned officers' club and resembles a grand country lodge with a fieldstone foundation and log-lined walls. The expansive front lawn is ideal for open-air ceremonies with a lovely view of the San Francisco skyline and peeks of the blue Pacific through the surrounding woods. Inside, you can't help but admire the cabin's handcrafted appeal: A soaring ceiling is supported by beams and columns made of Monterey Cypress tree trunks, and giant wagon wheel chandeliers illuminate a spacious dance floor. Crank up the huge fireplace, and your event will glow with rustic elegance.

The quaint Chapel of Our Lady, 1864, is a simple, white wood-frame structure with a stunning surprise: Two of its walls are constructed entirely of multicolored glass block panels. Behind the altar, a massive floor-to-ceiling window frames lush greenery and towering eucalyptus, provides an inspirational backdrop. Before and after your event, we encourage your guests to gather on the welcoming side lawn and enjoy the best of san Francisco weather.

The Spanish Colonial Revival-style Presidio Chapel stands proud on the forested hillside overlooking the bay. It's ideal for indoor and outdoor events. The interior is cool and refreshing with high ceilings and whitewashed walls. The secluded garden is surrounded by mature trees and offers a red tile patio or lawn. Photo ops abound in garden patio, and the resplendent vaulted redwood sanctuary is lined with 12 arched, stained-glass windows.
STYLE
Choice of Venue Styles, Heart of Presidio Park Location, Stunning Bay and City Views, Stately Fixtures, Gorgeous Period Architecture
IDEAL ACTIVITIES
Weddings, conferences, meetings, parties, galas, photoshoots…
BOOKING OPTIONS
Each Presidio location is open for reservations either as a whole venue buy out for day or evening use or as distinct areas such as the Ventana ballroom or Log Cabin.
First come, first served space reservation policy.
The Chapel of Our Lady and Presidio Chapel are only available when paired with Golden Gate Club or Log Cabin reservations.
GUIDELINES
No smoking in the buildings. No outside catering allowed. Respect local noise ordinances.
AMENITIES
Wi-Fi
Restroom Facilities
Ample Free Parking
Fully Wheelchair Accessible
Private Dressing Room / Green Room
Chair Style Choices
Suitable for Guests of All Ages
Available Seven Days A Week
AV Equipment Available
LGBT+ Friendly
Scenic Views
Climate Controlled
Tasty Meal, Snack & Dessert Options
Sanitation Stations
ENHANCED COVID-19 MEASURES
This venue is cleaned and disinfected in accordance with guidelines from the CDC.
Capacity is limited based on state and local guidelines.
High touch surfaces and shared amenities have been disinfected.
Venue has additional space outdoors.
Bookings are spaced apart to allow for enhanced cleaning.
Venue has been reconfigured to allow for physical distance.
Sanitizer stations provided for guests.
Common areas have 6-foot distance markers.